Posted by Administrator on November 18th, 2018
Paul McCartney has shared two exclusive versions of his 1971 song "Dear Friend" to mark the upcoming deluxe reissues of Wild Life, on which the song originally appeared, and his 1973 album, Red Rose Speedway. "With 'Dear Friend,' that's sort of me talking to John [Lennon] after we'd had all the sort of disputes about the Beatles breakup," McCartney noted in a press release. "I find it very emotional when I listen to it now. I have to sort of choke it back. I remember when I heard the song recently, listening to the roughs [remastering works-in-progress] in the car and I thought, 'Oh God.'" The reissues, which feature remastered versions of the albums, rough mixes and bonus videos, arrive via MPL/Capitol/UMe on Dec. 7. - Billboard, 11/16/18......
In other Beatles-related news, fans can now get your photo taken with a brand new statue of the Fab Four in Liverpool. The quartet has been immortalised again in a new statue situated on Mathew Street just inside the entrance of the Rubber Soul complex, where the Cavern Club and the Liverpool Wall Of Fame are located nearby, as well as statues of John Lennon and Cilla Black. The new statue joins numerous others of the group that are dotted around their hometown, including life-size figures at Pier Head and those on top of the Hard Day's Night Hotel. The new statue sees the band positioned around a bench with space for fans to sit and have their photo taken next to them. Meanwhile, a new book by former Apple Records executive Ken Mansfield about his time with the Beatles, The Roof: The Beatles' Final Concert, hit stores on Nov. 13 from Post Hill Press. It documents the group's final years and that fateful afternoon in 1969 on the roof of the Apple headquarters in London, when they played together live for the last time. - New Musical Express, 11/16/18...... Elsewhere on the Fab Four front, a transcript of the latest parole hearing of John Lennon's killer Mark David Chapman was released by New York state prison officials on Nov. 15. Chapman, who was denied parole for the 10th time after a hearing in August at Wende Correctional Facility where he is serving a 20-years-to-life sentence, told the board that he feels "more and more shame" every year for gunning down the former Beatle outside his Manhattan apartment in 1980. Chapman said that Lennon was "incredible" to him earlier in the day, but "I was too far in." "I do remember having the thought of, 'Hey, you have got the album now. Look at this, he signed it, just go home.' But there was no way I was just going to go home," he said. Chapman, 63, said he is now devoted to promoting the transformative power of Jesus, adding he realizes the pain he caused will linger "even after I die." In its decision, the state Board of Parole said releasing Chapman would not only "tend to mitigate the seriousness of your crime," but also would endanger public safety because someone might try to harm him out of anger, revenge or to gain notoriety. Chapman will be up for parole again in August 2020. - AP, 11/15/18...... Elvis Presley was awarded a posthumous Presidential Medal of Freedom by Pres. Donald Trump on Nov. 16 in Washington, D.C.. Trump said that Presley and baseball icon Babe Ruth, who were two of the seven Americans who received the honor during the ceremony, are "true legends" whose legacies will live on forever. The award is given to individuals "who have made especially meritorious contributions to the security or national interests of the United States, to world peace, or to cultural or other significant public or private endeavors," and presidents have total discretion over whom they honor with a Presidential Medal of Freedom. - AP, 11/16/18......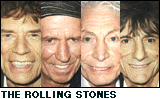 The Rolling Stones posted a New York-centric teaser video to Twitter on Nov. 15 that has some fans speculating that the rock & roll legends may be planning a Madison Square Garden residency or perhaps a U.S. tour in 2019, though nothing has been confirmed. The band shared a video of New York City's iconic Statue of Liberty, proceeded by a rising sun plastered with their red tongue and lips logo. After 12 seconds, the video ends abruptly. - Billboard, 11/15/18...... Elton John looks back at his venerable career in pop music in a new Christmas ad for the London-based department store chain John Lewis & Partners. The annually-anticipated commercial in the U.K. starts with John sitting at a piano in his home, tinkling a few keys before launching into the opening strains of "Your Song." It then travels backwards through the icon's career, from his insanely energetic and wildly-costumed stadium shows to his origins as a guy playing at a piano in a pub. As the commercial continues back through his childhood. In a statement, Sir Elton thanked John Lewis for asking him to be a part of their now-famous Christmas ad campaign. "It's been a lovely opportunity for me to reflect on my life in music and the incredible journey I have been on, and how first playing my Grandmother's piano marks the moment when music came into my life," he said. "The ad is absolutely fantastic and I've truly loved every minute of being a part of it." Meanwhile, Elton has given a shout out to a man who shares the same name with the John Lewis department store. John Lewis, a U.S. computer science teacher whose Twitter handle is @johnlewis, is flooded with messages each time the store's Christmas advert is released. "The only thing I contributed to this ad was to buy every Elton John album throughout my life," Lewis tweeted about the store, which goes by the less obvious handle of @jlandpartners. Sir Elton's team messaged him back, writing: "Thanks for being a fan, John. We love your work too! - Team EJ." - Billboard/New Musical Express, 11/15/18...... As Cher prepares to hit the road for her "Here We Go Again" tour in 2019, the diva has released a new teaser trailer for the show which she promises is "going to be a little different" this time. "I'm adding new songs to it and trying some new things and new technology," she said of the set. "Someone said 'Do you have a five year plan for your career?' I don't have a five minute plan for my career," she kidded. Cher kicks off the tour on Jan. 17 in Fort Myers, Fla. - Billboard, 11/14/18......

The unreleased Aretha Franklin gospel-oriented film Amazing Grace has premiered at the DOC NYC festival, three months after the legendary "Queen of Soul" died after a battle with pancreatic cancer. Although the Sydney Pollack-directed documentary is somewhat shapeless as a movie and gives little sense of emotional insight into the performer, it does contain moments of bliss as the singer's 1972 best-selling album is turned into a multi-sensory, soulful experience. Franklin chose a small, run-down venue in Los Angeles called the New Temple Missionary Baptist Church to record the album over two nights, and a slightly nervous-looking Franklin is introduced by gospel star Reverend James Cleveland. Franklin's first number is Marvin Gaye's "Wholy Holy," and she remains intently focused as the concert progresses, saying nothing to the eager crowd in between songs. Although efforts to release a finished film of the sessions over the years were blocked by Franklin, few fans will complain about the apparent disrespect of her wishes and will enjoy having the chance to see the gospel/soul icon in her prime, singing material that was clearly very meaningful to her. The audience at DOC NYC gave a euphoric reception to the movie at the premiere, and Civil Rights activist and spiritual leader Al Sharpton gave the invocation before the screening by leading the room in a brief prayer: "You gave us a queen, and that queen never forgot it was you who gave her that crown." - The Hollywood Reporter/Billboard, 11/13/18...... A teaser trailer for the upcoming animated film Toy Story 4 dropped on Nov. 12, and features Toy Story characters including Sheriff Woody, Buzz Lightyear, Jessie and Hamm dancing around in a joyous circle to the strains of the Judy Collins cover of Joni Mitchell's iconic 1969 hit "Both Sides Now." The movie and its killer soundtrack will hit U.S. theaters on June 21, 2019. The trailer comes a few days after Mitchell was given a 75th birthday party at the Dorothy Chandler Pavilion in Los Angeles on Nov. 7. The Canadian singer/songwriter was honored by such fellow famous musicians as Emmylou Harris, James Taylor, Norah Jones, Graham Nash, Charles Valentino, Chaka Khan, Kris Kristofferson and Rufus Wainwright. - Billboard, 11/12/18...... Queen's classic '70s song "Bohemian Rhapsody" has re-entered the Billboard Hot 100 dated Nov. 17 at No. 33. It's the third visit for "Bohemian Rhapsody" to the Hot 100 and its first since 1992, when it returned amid the success of another film, Wayne's World, and peaked at No. 2. The song originally reached No. 9 in 1976. Queen, on the strength of the new Freddie Mercury and Queen biopic Bohemian Rhapsody, has also hit No. 1 on the Billboard Artist 100 chart for the first time. The Artist 100, which launched in July 2014, measures artist activity across key metrics of music consumption, blending album and track sales, radio airplay, streaming and social media fan interaction to provide a weekly multi-dimensional ranking of artist popularity. Queen's Bohemian Rhapsody soundtrack has also lept from No. 25 to No. 3 on the Billboard Hot 200 album chart, becoming the band's highest-charting album in 38 years, with 59,000 equivalent album units sold. - Billboard, 11/13/18......

The city of Birmingham, UK, is planning to honour its famous sons Black Sabbath by constructing a handmade, stainless steel binch in the city's Jewellery Quarter. The bench will reportedly feature images of Ozzy Osbourne, Tony Iommi, Geezer Butler and Bill Ward with the words "Geezer. Ozzy. Tony. Bill. Made in Birmingham 1968." etched on it. The pioneering heavy metal band formed in the Aston area of the city in 1968, and initially broke up in 2006 before reforming in 2011. The bench will sit on the newly-named "Black Sabbath Bridge," which runs over the New Main Line canal and is situated next to the ICC and Symphony Hall. The Birmingham City Council will have the final say on if the plans will go ahead, however. - NME, 11/14/18...... Aerosmith guitarist Joe Perry tweeted to fans on Nov. 13 that he's "doing well" after a medical emergency after a special appearance at a Billy Joel concert in New York City on Nov. 10. "Doing well, thanks for all the love and support!," tweeted Perry, who also took the time to praise iconic comic book writer Stan Lee, who passed away on Nov. 12 at age 95. "With Stan Lee, at The Hollywood Bowl in 2012. Rest In Peace Stan!," Perry wrote underneath a pic of the two together. Perry's rep says the musician is expected to return to the road later in November. - Billboard, 11/13/18...... A host of classic albums by the likes of David Bowie (The Next Day), Jimi Hendrix (Axis: Bold As Love), King Crimson (In the Court of the Crimson King), Ozzy Osbourne (Diary of a Madman) and Bob Marley and the Wailers (Catch a Fire) are getting a super-limited reissue on blue vinyl to benefit Unicef. Only 50 copies of each record will be available. One of them is available to bid on in an auction, as will a huge set of every record. The remaining 48 copies will be available in a prize draw. "We are so proud and excited to release this incredibly special collection of albums for Unicef's Blue Vinyl, collaborating with some of the world's best music talent to support children around the world," said Unicef UK CEO Mike Penrose. - NME, 11/13/18...... Fleetwood Mac has announced they'll perform a second show at London's Wembley Stadium as part of their summer 2019 European tour dates -- as well as revealing that they'll be supported by the Pretenders. After a number of U.S. performances next spring, the band will travel to Europe for dates in Berlin (6/19), Dublin (6/13) and London (6/16). Due to phenomenal demand, a second London show has been announced at Wembley Stadium for June 18. They'll be joined at all European headline shows by special guests the Pretenders. - NME, 11/13/18......

Legendary country music legend and Hee Haw star Roy Clark died on Nov. 15 at his Tulsa, Okla., home due to complications from pneumonia. He was 85. Born Roy Linwood Clark on April 15, 1933, in Meherrin, Va., he grew up mostly in Washington, D.C., and gained a love of all kinds of music early on. His father, who played in a square dance band, took him to see the National Symphony Orchestra and military bands. A remarkably talented multi-instrumentalist, Mr. Clark started out on the banjo and mandolin; when he was 14, he received his first guitar as a Christmas present and made his first television appearance that same year. First performing alongside his father, he began playing in D.C. bars and clubs, ignoring his schoolwork to the point of dropping out at age 15 and soon going on tour with the likes of Hank Williams. He was first invited to the Grand Ole Opry as a teenager, after winning a national banjo competition in 1950. Mr. Clark was Hee Haw host or co-host for its entire 24-year run, with Buck Owens his best-known co-host. The country music and comedy show's last episode aired in 1993, though reruns continued for a few years thereafter. "Hee Haw won't go away. It brings a smile to too many faces," he said in 2004, when the show was distributed on VHS and DVD for the first time. His hits included "The Tips of My Fingers" (1963), "Yesterday When I Was Young" (1969), "Come Live With Me" (1973) and "Honeymoon Feeling" (1974). He was also known for his instrumental versions of "Malaguena," on 12-string guitar, and "Ghost Riders in the Sky." He was inducted into the Country Music Hall of Fame in 2009, and emotionally told the crowd how moving it was "just to be associated yourself with the members of the Country Music Hall of Fame and imagine that your name will be said right along with all the list." Mr. Clark was also a guest host on The Tonight Show several times in the 1960s and 1970s when it was rare for a country performer to land such a role. Beginning in 1983, he operated the Roy Clark Celebrity Theatre in Branson, Mo., and was one of the first country entertainers to open a theater there. He was a touring artist as late as the 2000s and over the years, he played at venues around the world: Carnegie Hall in New York, the Sporting Club in Monte Carlo, the Grand Palace in Brussels and the Rossiya Theatre in Moscow. He penned an autobiography, My Life in Spite of Myself, in 1994. - Fox News, 11/15/18...... Acclaimed Hollywood screenwriter William Goldman, who was honored with Oscars for his work on both Butch Cassidy and the Sundance Kid and All The President's Men, died on Nov. 15 at the age of 87. Mr. Goldman was widely credited as one of the greatest screenwriters in Hollywood history, and was described by author Sean Egan as "one of the late twentieth century's most popular storytellers." Mr. Goldman began as a novelist and transitioned to writing scripts with Masquerade in 1965. Other scripts written by Mr. Goldman include Marathon Man, The Princess Bride, The Stepford Wives, The Great Waldo Pepper, A Bridge Too Far, Chaplin and Misery. He also did a lot of behind the scenes script doctoring without taking a screen credit, as on films that included A Few Good Men and Indecent Proposal. Beyond that, Mr. Goldman was a renowned memoirist. His travelogue through the movie business, Adventures In The Screen Trade, was a primer for aspiring screenwriters and for journalists covering them. Mr. Goldman passed away in his Manhattan home, surrounded by family and friends, who said his health had been failing for some time, and over the summer his condition deteriorated. - Deadline.com, 11/16/18.
BMG Music announced on Nov. 12 that it had signed a worldwide deal with Keith Richards for the Rolling Stones guitarist's four solo albums from 1988-2010 along with his 1978 debut solo single, "Run Rudolph Run." BMG has already represented Richards' music publishing since 2013, and BMG CEO Hartwig Masuch said, "It is a real honor now to extend that relationship even further to work with his classic solo releases." BMG will celebrate the 40th anniversary of Richards' rendition of "Run Ruldolph Run" with a limited edition 45rpm on 12-inch red vinyl to be released on Nov. 23 for RSD Black Friday. The label is also planning physical reissues of all of Richards' albums, which were recently re-released on all digital streaming platforms. - Billboard, 11/12/18......
Neil Young posted on his Neil Young Archives on Nov. 11 that the wildfires currently raging in northern and southern California have claimed his home in Malibu. "We are vulnerable because of climate change; the extreme weather events and our extended drought is part of it," Young wrote, adding that local residents "are up against something bigger than we have ever seen... It's too big for some to see at all. Firefighters have never seen anything like this in their lives. I have heard that said countless times in the past two days, and I have lost my home before to a California fire, now another." Young, who bought his Malibu house in 2016 from his then girlfriend Daryl Hannah (the pair have since married), also blasted Pres. Donald Trump for his reluctance to act on climate change and for the president's steadfast denial of scientific evidence. "Imagine a leader who defies science, saying these solutions shouldn't be part of his decision-making on our behalf. Imagine a leader who cares more for his own, convenient option than he does for the people he leads. Imagine an unfit leader. Now imagine a fit one," he added. Although Young is a Canadian citizen who is unable to vote in U.S. elections, he remains a tireless campaigner on environmental issues, also recently taking aim at agrochemical giant Monsanto in his 2015 album The Monsanto Years. The Rock and Roll Hall of Fame inductee also recently slammed Pres. Trump for using his song "Rockin' in the Free World" during Trump campaign events. "DT does not have my permission to use the song 'Rockin' in the Free World' at his appearances," Young wrote on US Election Day (Nov. 6) on his Neil Young Archives website. "Legally, he has the right to, however, it goes against my wishes," he added. A recent New York Times story broke down the complicated licensing and copyright law tangle that, in the past, has given political campaigns wide berth to play any song they choose at rallies. - Billboard, 11/11/18...... Cher was also among the many celebrities sharing their concern over the devastating California wildfires on Twitter. "Poor Malibu my beloved home," wrote Cher in a tweet on Nov. 9. "I'm worried about my house but my heart is broken for people who have lost everything," she added. Meanwhile, Rod Stewart also had a few words of criticism for Pres. Trump's remarks. "California needs words of support & encouragement, not threats or finger pointing & accusations. Where is Winston Churchill when you need him?," Sir Rod posted on Nov. 10. - Billboard, 11/9/18......
Aerosmith guitarist Joe Perry is reportedly "alert and responsive" and in stable condition after collapsing backstage after a guest appearance at a Billy Joel concert in Madison Square Garden on Nov. 10. Perry and Joel jammed to Aerosmith's "Walk This Way" during the show, after which Perry, according to TMZ.com, "collapsed in his dressing room immediately after the gig, and looked terrible." Paramedics reportedly treated Perry on the scene, placing a tracheal tube down his throat to clear the air path, before transporting him to hospital. Representatives for Perry have now confirmed that he's in a stable condition after receiving hospital treatment, and that the Aerosmith guitarist "will be unable to appear today at Rock And Roll Fantasy Camp in Florida and apologizes to those attending... [he] is expected to return to the road later this month." In 2016, Perry abruptly staggered offstage during a performance with the Alice Cooper-led supergroup the Hollywood Vampires, where he also promptly received emergency medical attention. - New Musical Express, 11/12/18...... Appearing and performing on the daytime talk show CBS This Morning on Nov. 11, Elvis Costello shared an update on his recent cancer scare of a "small but very aggressive cancerous malignancy" that recently forced him to cancel a number of concerts. "I'm great! I was extremely lucky to have this little thing found," Costello said of the surgery he underwent, before taking aim at how the extent of his illness was blown out of proportion. "I was receiving letters for three weeks. No, I am not dying! It's not to make a joke of it, because you don't have to walk very far to find somebody you love who's genuinely having a fight [with cancer]," he said. Costello, who recently released a new album with his backing band the Imposters titled Look Now, also commented on his desire to keep pushing his sound into new territory. "Sometimes it horrifies people when it's very far from what they see as 'home' or your strong point," the New Wave icon said, "but what about the people that embrace different things?" - New Musical Express, 11/11/18...... Joan Jett and Steve Winwood were among the headliners at a Parkinson's charity gala held at the Hilton New York on Nov. 10 that benefitted actor Michael J. Fox's Parkinson's disease foundation. Jett and Fox jammed on electric guitar behind Winwood's performance at the event, which was also attended by Jim Gaffigan, Willie Geist, Katie Couric and Fox's Back to the Future co-star Christopher Lloyd. Fox himself was diagnosed with the chronic illness in the early '90s. - Billboard, 11/12/18...... Over 30 items worn by the late Queen of Soul Aretha Franklin went on the auction block over the second weekend in November at a charity auction conducted by Julien's. Franklin's pink silk two-piece Bill Blass-designed gown worn by Franklin at the Duets concert AIDS benefit in 1993 fetched $10,000, while a strapless white silk evening gown and a satin coat worn by the singer at the 1998 Grammy's pre-party sold for $8,750. The exhibition featured more than 800 items from music heavyweights by the likes of Prince, Michael Jackson, Whitney Houston, Elvis Presley, the Beatles and Madonna. Proceeds went to the Prince's Trust, which benefits disadvantaged young people in the U.K. - Billboard, 11/12/18......

Elvis Presley is among the notable Americans selected as this year's recipients for the Presidential Medal of Freedom, the White House announced on Nov. 10. "Elvis Presley defined American culture to billions of adoring fans around the world," a statement from the White House read. "Elvis fused gospel, country and rhythm and blues to create a sound all his own, selling more than a billion records. Elvis also served nearly two years in the United States Army, humbly accepting the call to serve despite his fame. He later starred in 31 films, drew record-breaking audiences to his shows, sent television ratings soaring and earned 14 Grammy Award nominations. He ultimately won three Grammy Awards for his gospel music. Elvis Presley remains an enduring American icon four decades after his death." The Presidential Medal of Freedom is recognized as the nation's highest civilian honor, awarded to those whom the President believes made a "meritorious contribution to the security or national interests of the United States, to world peace or to cultural or other significant public or private endeavors." Pres. Donald Trump will award the Presidential Medal of Freedom during a formal ceremony in Washington, D.C. on Nov. 16. It will mark his first time bestowing the honor as acting president. - The Hollywood Reporter, 11/10/18...... On Nov. 12 ZZ Top announced dates for its 2019 tour of the UK and Europe that will see the legendary trio play the Prague Rocks fest in the Czech Republic on June 19, the Barcelona Rocks Festival on July 5, and London's Wembley Arena on July 12. "It's been 50 years, and I think we're starting to get pretty good!," frontman Billy Gibbons says. "We're just as excited to play Barcelona this summer as we were to play Beaumont, Texas, back in 1969. The beards are, perhaps, a bit longer, but nothing much else has changed and we hope to keep it that way." ZZ Top is celebrating its 50th anniversary in 2019, and more European dates are expected to be announced soon. - NME, 11/12/18...... Fleetwood Mac was forced to cancel its Nov. 10 show at Rogers Place in Edmonton, Alberta, just a few hours before the gig was to begin after singer Stevie Nicks fell ill. "So sorry we couldn't play for you tonight Edmonton but we had to protect that wondrous force of nature that is Stevie's voice. We'll be back in April better than ever," new Fleetwood Mac member Neil Finn posted on Twitter. The band also canceled a concert at the Saddledome in Calgary, Alberta, that was scheduled for Nov. 12. The shows were rescheduled for Apr. 13 and Apr. 15, respectively. - Billboard, 11/12/18...... Blues/rock/soul guitarist and singer/songwriter Ben Poole will kick off his November/December 2018 UK Tour at the Brighton Latest Music Bar on Nov. 21. The tour follows the release of Poole's new studio album Anytime You Need Me, released on Sept. 14 via Manhaton Records. Poole's 14-city tour will also see him visiting venues in such cities as Barnsley (11/23), Glasgow (11/29), London (12/12) and Leicester (12/13) before wrapping in Winchester on Dec. 15. - Noble PR, 11/8/18...... Hugh McDowell, a former cellist for Electric Light Orchestra and Wizzard, has died at age 65 following a battle with cancer. McDowell joined ELO in 1972 when he was only 19 years old. One year later, he made his recording debut on the group's sophomore album, ELO 2. He left the band to join Roy Wood in Wizzard, but returned to ELO until 1980. He is credited on their albums Eldorado, Face the Music, A New World Record and 1977's double-LP, Out of the Blue. Until his death McDowell played with various groups and classical music ensembles, and was featured as a guest on recordings by Mel Gale, Asia and Geoff Downes, among others. McDowell also did film and theatre arrangements for various artists and worked with computer programming. He created the music composition program, Fractal Music Composer, in 1992. - Billboard, 11/9/18......

French composer Francis Lai, best known for his Oscar-winning theme for the 1970s smash movie Love Story, died in Nice, France, of as yet undisclosed causes on Nov. 7. He was 86. Mr. Lai's plaintive piano melody for Love Story, the 1970 tearjerker that made stars of Ryan O'Neal and Ali MacGraw, was his biggest hit, earning him an Oscar and a Golden Globe. His soundtrack recording was all over radio in early 1971, reaching no. 37 as a single and no. 2 as a soundtrack album. When lyrics were added to the melody, Andy Williams sang "Where Do I Begin" to no. 7 on the charts that same year. Before "Theme from Love Story," Mr. Lai had already achieved a modicum of fame with his romantic theme for A Man and a Woman, French director Claude Lelouch's art-house hit of 1966. The combination of Mr. Lai's accordion and the wordless "da-ba-da-ba-da, da-ba-da-ba-da" vocals of a male-female duo struck a chord with record-buyers, propelling the soundtrack album to no. 10 on the American charts. In all, Mr. Lai scored more than 100 films and wrote over 600 songs. His only work for American television was the TV-movie Berlin Affair (1970) and the Joan Collins miniseries Sins (1986), which featured a Carly Simon song written by Mr. Lai. - AP, 11/8/18...... Legendary Marvel Comics mastermind and pop culture icon Stan Lee, who changed the landscape of the superhero genre by creating countless beloved characters, died on Nov. 12 at Cedars-Sinai Medical Center in Los Angeles after experiencing several health issues throughout the past year including a battle with pneumonia as well as issues with his vision. He was 95. Among his many works, Mr. Lee played in creating The Hulk, the Fantastic Four, Daredevil, the X-Men and Black Panther. He also frequently appeared in the Marvel movies that were made from his characters. In the 1970s, Mr. Lee importantly helped push the boundaries on censorship in comics, delving into serious and topical subject matter in a medium that had become mindless, kid-friendly entertainment. The Manhattan-born Mr. Lee wrote, art-directed and edited most of Marvel's series and newspaper strips. He also penned a monthly comics' column, "Stan's Soapbox," signing off with his signature phrase, "Excelsior!" Mr. Lee received a National Medal of Arts in 2008 from Pres. George W. Bush and was inducted into the comic book industry's Will Eisner Award Hall of Fame in 1994. He received a star on the Hollywood Walk of Fame in 2011. In 2002, Mr. Lee published an autobiography, Excelsior! The Amazing Life of Stan Lee. - The Hollywood Reporter, 11/12/18.... Shakespearean actor Douglas Rain, who voiced the soft-spoken HAL 9000 robot that went rogue in Stanley Kubrick's 1968 sci-fi masterpiece 2001: A Space Odyssey, died on Nov. 11 of natural causes at St. Mary's Memorial Hospital near Stratford, Ontario, Canada. He was 90. Born in Winnipeg, Manitoba in 1928, Mr. Rain studied at the Old Vic in London, and performed at theaters and festival across Canada. He received a Tony nomination in 1972 for his role in Robert Bolt's production of "Vivat! Vivat! Regina!" All of Mr. Rain's voiceover work for HAL was done in post-production. Other actors were considered for the role, including Martin Balsam, who was eventually dismissed as "too American," and Nigel Davenport, who was deemed "too English." Mr. Rain also contributed voice work to the 2001 sequel, 2010: The Year We Make Contact, and worked in radio dramas and starred in various Broadway productions. He became a co-founding member of Stratford Shakespearean Festival in 1953. "Canadian theatre has lost one of its greatest talents and a guiding light in its development," the festival's artistic director, Antoni Cimolino, said in a press release. - WENN/Canoe.com, 11/12/18.