Posted by Administrator on April 27th, 2018
A trailer for the upcoming Queen biopic Bohemian Rhapsody was screened at the CinemaCon event in Los Angeles on Apr. 26. Introduced by Rami Malek, who plays late Queen frontman Freddie Mercury, the trailer opens with the band's classic "Bohemian Rhapsody" playing in the background, as a young Mercury asks to be the lead singer of a band. Retorts one of his future bandmates: "Not with those teeth, mate." The rest of the trailer is comprised of vignettes of Mercury and Queen discovering their sound -- "If I go any higher, only dogs will hear it," Mercury says. Malek also spoke about the pressures of playing Mercury in the film, which took 10 years to get to the screen, saying one of the challenges was capturing how Mercury filled his music "with pain and beauty." Bohemian Rhapsody is scheduled to open in U.S. theaters on Nov. 2. - The Hollywood Reporter, 4/27/18......
Legendary Swedish pop quartet ABBA announced on Apr. 27 that they have reunited to write and record two new songs -- their first new tracks in 35 years. "The decision to go ahead with the exciting Abba avatar tour project had an unexpected consequence," said the band in a press release. "We all felt that, after some 35 years, it could be fun to join forces again and go into the recording studio. So we did. And it was like time had stood still and we had only been away on a short holiday. An extremely joyful experience!" The group -- which includes Bjrn Ulvaeus, Agnetha Faltskog, Benny Andersson and Anni-Frid Lyngstad -- hinted at the sound of the new music, saying, "We may have come of age, but the song is new. And it feels good." ABBA also revealed the name of one of the songs, "I Still Have Faith in You," which will be featured in an NBC/BBC special that is slated to air in December. The two-hour TV special will feature the group's avatars performing their greatest hits; the avatars are slated to launch a world tour in 2019. ABBA, which formed in Stockholm in 1972 and racked up a string of global smashes throughout the next decade before going their separate ways in 1983, made a brief reunion in 2016 when they performed together at a private event in Stockholm. - Billboard, 4/27/18...... In other ABBA-related news, Cher received a standing ovation at CinemaCon on Apr. 25 after performing ABBA's "Fernando" to promote her upcoming film, Mamma Mia: Here we Go Again! Dressed in a full glitter pantsuit and matching platform heels, Cher finished the song as balloons dropped form the ceiling. A small armada of dancers performed a choreographed routine, while Cher appeared on a raise platform from behind fake palm fronds. The sequel to the hit 2008 film Mamma Mia! opens in theaters on July 20, and many of the stars of the first film -- including Meryl Streep, Amanda Seyfried, Pierce Brosnan, Christine Baranski and Colin Firth -- return returning for the follow-up, which will include ABBA songs not featured in the first film, along with some reprised favorites. New additions include Cher and Lily James. - Billboard, 4/25/18...... In a new post on his Neil Young Archives page, Neil Young has confirmed that he will return to the stage with his fitfully active backing group Crazy Horse on May 1 and 2 at Warriors Theatre in Fresno, Calif. "First time in a long time, live on stage. No rehearsal," Young posted. The news follows Young claiming in a recent Rolling Stone interview that he and Crazy Horse have "an incredible album in the can that's a recent album. Alchemy," though it is not known if songs from that album will be debuted at the upcoming shows. Longtime Crazy Horse guest guitarist Nils Lofgren mused on Twitter: "The great news is I am jumping back in with #CrazyHorse @Neilyoung I will be there. Beyond honored. Nothing like playing with old friends. A friend just reminded me, at this age you can't coast." - Billboard, 4/24/18...... In other Neil Young news, the rocker reunited with his Crosby, Stills, Nash and Young bandmate Stephen Stills on Apr. 25 for the 3rd Light Up the Blues Concert to benefit Autism Speaks at the Pantages Theatre in Hollywood. During his mini-set, Young announced after performing a powerful rendition of "Birds" that he wanted to bring his "brother" onto the stage. Stills then walked on to jam with Young on "Long May You Run," along with the Buffalo Springfield anthems "For What It's Worth" and "Mr. Soul." Stills, who organized the benefit concert alongside his wife Kristen in support of their autistic son Henry, addressed the Los Angeles crowd at one point saying, "With the help of steadfast friends and concerned professionals that shared our determination, Kristin and Iwere able to find a path that lead our boy to a far better way of life, and now he's in college." An even grander surprise took place with the late Tom Petty's band the Heartbreakers, who haven't performed since Petty's sudden death this past October, took the stage to perform the rocking "I Won't Back Down" alongside Stills. Patti Smith was also on hand for a performance of "Because The Night." - Billboard, 4/23/18......

Legendary '70s singer/songwriter Eric Andersen has released The Essential Eric Andersen, a 33-track, 2-disc career-spanning set that's being released in conjunction with his 75th birthday. Though best-known as a songwriter whose tunes were recorded by the likes of Bob Dylan, the Grateful Dead, Johnny Cash, Judy Collins, Linda Ronstadt and many others, Anderson released his own debut album, Today Is the Highway, in 1965, and has released albums steadily since then. The Essential touches on all eras of his career, and it features guest collaborations with Joan Baez, Dan Fogelberg, Leon Russell, Lou Reed, Richard Thompson, Rick Danko, Phil Ochs and others. Andersen, who currently resides in the Netherlands, will play three shows in California in late April -- Sacramento (4/27), Soquel (4/29) and a Q&A on May 3 at the Grammy Museum in Los Angeles. Andersen will also be the subject of an upcoming PBS documentary titled Songpoet. - Billboard, 4/27/18...... Willie Nelson's latest LP Last Man Standing was released in stores and online for streaming on Apr. 27. Announced in February, the album's title appears to be a reference to the songwriter's 85th birthday, which happens on Apr. 29. It is the follow-up to the country/pop icon's 2017 release God's Problem Child and includes the single "Me and You," as well as the album's title track. - Spin.com, 4/27/18...... Deep Purple and Judas Priest announced on Apr. 23 that they'll hit the road for a 25-city co-headlining North American late summer tour that's set to kick off on Aug. 21 in Cincinnati, Oh. The outing is scheduled to run through a Sept. 30 date at the Toyota Amphitheatre in Wheatland, Calif. Deep Purple are touring behind their 2017 album inFinite, while Judas Priest will be showcasing songs from their March 2018 release, Firepower. - Billboard, 4/23/18...... In a new interview with Rolling Stone, Fleetwood Mac have revealed that Lindsey Buckingham was indeed fired from the band due to scheduling conflicts. "Words like 'fired' are ugly references as far as I'm concerned," said drummer Mick Fleetwood. "Not to hedge around, but we arrived at the impasse of hitting a brick wall. This was not a happy situation for us in terms of the logistics of a functioning band. To that purpose, we made a decision that we could not go on with him. Majority rules in term of what we need to do as a band and go forward." As for their falling out due to scheduling issues, Stevie Nicks revealed: "We were supposed to go into rehearsal in June and he wanted to put it off until November [2019]. That's a long time. I just did 70 shows [on a solo tour]. As soon as I finish one thing, I dive back into another. Why would we stop? We don't want to stop playing music. We don't have anything else to do. This is what we do." Meanwhile, on Apr. 25 the band announced dates for a 50-plus city fall tour that's set to kick off on Oct. 3 in Tulsa, Okla. With a rebooted lineup featuring former Tom Petty guitarist Mike Campbell and Crowded House's Neil Finn, Fleetwood Mac will hit several major markets including Indianapolis (10/16), Kansas City (10/18), St. Louis (10/20), St. Paul (10/22), Cleveland (10/26), Milwaukee (10/28), Detroit (10/30) and Pittsburgh (11/1) before playing their final 2018 show on Dec. 13 in Inglewood, Calif. In 2019, they'll resume the U.S. leg with a show in Houston on Feb. 5, wrapping on Apr. 5 in Philadelphia. The group will also launch "The Fleetwood Mac Channel" on SiriusXM on May 1 at 5 p.m. ET, running throughout the month on channel 30, with music, interviews and hosted shows from current and former band members. - New Musical Express, 4/25/18......

Herb Alpert has covered Louis Armstrong's iconic hit "What a Wonderful World" as an instrumental version for what he says is "in response to our times." "I'm not a politician, but there's a lot of things going on I'd like to respond to," Alpert said in an interview with Billboard. "I wouldn't in my wildest dreams think of covering such an iconic record, but I've always been taken by what Louis said, and there's a lot of things going on I'd like to respond to. It's a simple statement. It's a true statement. It's apolitical, and I'm sure a lot of people believe it. So I'm just trying to put some feelings out there I think deserve to be out there," he added. Proceeds from Alpert's "What A Wonderful World" will be going to the Louis Armstrong Educational Foundation. Alpert's treatment of the song, meanwhile, takes a more upbeat, world music approach, blending Alpert's trumpet with a variety of international instruments from countries including China, Turkey, Japan, Armenia and Trindidad. Alpert says the song is also a chance to salute Louis Armstrong, a friend and personal musical hero. "He was a spectacular guy, really something special. He was genuine, he was passionate, and that came right through his instrument. I've met a lot of great musicians in my day. Some played the shit out of their instrument and were a drag when you met them, but this guy was a beautiful human being. It was always heartwarming to see him. I really loved him." - Billboard, 4/26/18...... Nile Rodgers of Chic is recovering after taking a major spill in the studio on Apr. 25 and breaking his nose. In a video shared to Rodgers' social media pages, the 65-year-old disco icon can be seen on the floor of his studio holding tissues and an icepack to his nose, a pool of blood scattered across the hardwood floors beneath him. "I guess that's what you call a slip and fall," he continues as he scoffs at his misfortune, "I think we better go to the hospital bro." In the video's caption Rodgers writes, "Who's life is more #crazy than mine? I broke my nose tripping on the top stair of my studio." Rodgers, who was hospitalized in 2017 after falling ill in Toronto while on tour with Earth, Wind & Fire, is currently crafting a new Chic album that is set to feature Bruno Mars, Haim and Debbie Harry. - Billboard, 4/25/18...... The brassy troupe Tower of Power is celebrating its golden anniversary in 2018, and on June 1 will release a new album, Soul Side of Town. Co-founding member Emilio Castillo says the new album has been in the works since 2012, and was recorded over four sessions during the past six years. "The whole idea was to make the best record of our career," Castillo says. "One of our old managers said, 'You guys really need to ring the bell this time. You're at 50 years. You've got to make the best record of your career.' When all was said and done we had finished 28 songs and were ready to pick out the best of those." Tower of Power will also play a pair of 50th anniversary concerts on June 1-2 at the Fox Theatre in Oakland, Calif., which will be filmed for a documentary. - Billboard, 4/25/18...... In 2015, Patti Smith recorded a new live version of her 1975 debut album Horses to mark its 40th anniversary at New York's Electric Lady Studios before an in-studio audience, then hit the road to perform the album in full for packed theaters around the world. Now a new concert documentary of the tour, Horses: Patti Smith and Her Band, has premiered at the Tribeca Film Festival on Apr. 23. Smith, guitarist Lenny Kaye, her son, Jackson and the rest of her musical outfit were the guests of honor as well as the headliners. Also jamming with Smith on a rendition of "Because the Night" and the finale, "People Have The Power," were Bruce Springsteen and Michael Stipe of R.E.M.. - Billboard, 4/24/18......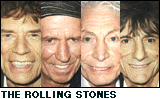 The Rolling Stones have announced that Florence + the Machine, Liam Gallagher and Michael Bay will be their supporting acts for their upcoming U.K. tour, which launches on May 22 at London Stadium. Gallagher will join the Stones for the first night of the tour; Florence + the Machine will follow with another London Stadium date on May 25, with Bay closing the run with them back in London at Twickenham Stadium on June 19. Meanwhile, the Stones have also announced that a huge 15-album vinyl box set, The Studio Albums Vinyl Collection 1971-2016, will hit stores on June 15. The release will offer fans of the legendary band the opportunity to obtain a remastered version of every studio album released by the Stones since 1971's Sticky Fingers on brand new heavyweight, 180-gram black vinyl. Sourced from the original master tapes, each album has been remastered and cut at half-speed by engineers at Abbey Road Studios. Each album also contains a numbered certificate of authentication, with detailed artwork reproductions for each LP. In other Stones news, Mick Jagger has revealed that he is writing new material, ahead of band's upcoming UK tour. "I am writing at the moment," he told Independent IE in a recent interview. Questioned on whether his ideas would be part of a solo release or Stones record, Jagger replied: "I'm just writing. It is mostly for the Stones at the moment..."I don't really think about what I have written, much. I just keep ploughing forward, really." - Billboard/New Musical Express, 4/23/18...... The family of Prince have announced that they are to sue the Illinois hospital that treated the late music icon for an opioid overdose only a week before his death. The family, represented by trustee Michael A. Zimmer, claim that he received improper care after his private plane made an emergency landing in the early hours of Apr. 15, 2016, following a show in Atlanta. The lawsuit alleges that Prince's death was a "direct and proximate cause" of the Trinity Medical Centre's alleged failure to diagnose and treat the overdose, alongside an apparent failure to investigate the cause of it. The family is also suing the pharmacy chain Walgreens, accusing its employees of "dispensing narcotic prescription medications" to the singer for an invalid medical purpose. - NME, 4/24/18...... A rare vintage poster for a 1955 Elvis Presley concert in North Carolina has sold at auction for more than double the expected price. The poster, made by the iconic Nashville, Tenn.-based poster maker Hatch Show Prints, advertises a May 19, 1955 concert in Raleigh where Presley was on the lineup below Hank Snow, Faron Young and other acts. Giles Moon of Texas-based Heritage Auctions says he had expected the poster to sell for about $20,000, however it went for $42,500. Moon says both the buyer, who is from California, and the seller prefer to remain anonymous. - AP, 4/22/18......
Actor/comedian Bill Cosby was convicted of drugging and molesting a woman on Apr. 26 in Norristown, Pa., in the first big celebrity trial of the #MeToo era. A jury convicted the Cosby Show star of three counts of aggravated indecent assault, and the guilty verdict came less than a year after another jury deadlocked on the charges. Cosby, 80, was charged with violating Temple University employee Andrea Constand at his suburban Philadelphia home in 2004. His lawyer called Ms. Constand a "con artist" who leveled false accusations against Cosby so she could sue him. Cosby could get up to 10 years in prison on each of the counts. Dozens of women have come forward in recent years to say he drugged and assaulted them. Five of the other accusers testified against him at the retrial. - AP, 4/26/18...... The premier of Britpop Classical will be the opening act on Sept. 1 at Cool Britannia Festival in Knebworth Park, Hertfordshire, UK. Britpop Classical features a full rock back of some of the country's best session musicians together with an amazing horns section and orchestra, all backing a spectacular array of vocalists including The Farm's Peter Hooton performing "All Together Now," Saffron from Republica with "Ready To Go," Heaven 17's Glenn Gregory covering Pulp's "Common People" and just added -- the unique Phil Daniels (Quadrophenia, EastEnders) will close the set with Blur's "Parklife." Tickets for the festival are on sale now via the official festival website, CoolBritanniaFest.com. - Noble PR, 4/24/18...... Saxophonist Charles Neville, who once toured with B.B. King and later gained fame with the Neville Brothers group, died on Apr. 26 after a battle with pancreatic cancer. He was 79. The New Orleans-born Neville began his career in the 1950s when he performed with King and other musical greats, but was best know for three decades of performances with his siblings Aaron, Art and Cyril as the Grammy-winning Neville Brothers. "I know you have a spot in the heavenly band next to James Booker, James Black, Herbert Hardesty, Fats Domino, Johnny Adams all the jazz bebop players who you turned me on to," Aaron Neville posted on his Facebook page. "Dizzy, Charlie Parker, Miles and the list goes on," he added. Charles Neville, who lived in Massachusetts in recent years, had announced in January that he had pancreatic cancer. His death came a day before the opening of his home town's signature musical and cultural event, the annual New Orleans Jazz & Heritage Festival. - AP, 4/26/18...... Bob Donough, the jazzman who created the clever and enduring Schoolhouse Rock childrens series of the 1970s that taught grammar, math, science and citizenship to a generation of TV-watching kids, died on Apr. 23 at his home in Mount Bethel, Penn. He was 94. His family did not give a cause. - AP, 4/24/18.
Seventies hitmaker Roberta Flack was rushed to a New York City hospital after cutting short her appearance at Harlem's Apollo Theater on Apr. 20 because she was not feeling well. Flack, 81, was taken to Harlem Hospital via ambulance, saying she felt dizzy. The singer, who was about to receive a lifetime achievement award from the Jazz Foundation of America during her appearance, was released from the hospital after several hours. A spokesperson for the Jazz Foundation said the "First Time Ever I Saw Your Face" singer was "feeling fine," but Flack went to another Manhattan hospital after being released from Harlem Hospital for observation by her personal doctors. - AP, 4/21/18...... Led Zeppelin has shared a teaser trailer for their special 7" single release for this year's Record Store Day, featuring unreleased versions of both "Rock And Roll" and "Friends." The vinyl single hit stores on Record Day, Apr. 21, and offers fans the chance to hear the Sunset Sound Mix of "Rock And Roll" and the the Olympic Studios Mix of "Friends" for the first time ever. Led Zepp has also released a newly remastered version of their classic live album How The West Was Won in multiple formats. - NME, 4/20/18......
Paul McCartney remembered his late first wife Linda McCartney on Apr. 17, the 20th anniversary of her death in 1998, with a loving Instagram post. "Remembering Linda with love today. Beautiful memories," Sir Paul posted, below a picture of Linda. Linda, who tragically died at age 56 on April 17, 1998, after a three-year battle with breast cancer, were married (and inseparable) from their 1969 marriage until her death, and became a rock power couple as founding members of the chart-topping band Wings. - Billboard, 4/19/18...... In other Beatles-related news, Cheech & Chong member Tommy Chong says he and his partner Cheech Marin have "a ton of outtakes" from their 1973 hit "Basketball Jones," which featured the late George Harrison on lead guitar during the session. "We've got all of that in the can that we're going to spring on people eventually, one day. That'd be great," Chong said, though he did not state any specific plans for releasing the Harrison material. "George and I were buddies," Chong says. "George and I used to smoke quite a bit when we'd meet once in a while at different places. He was in the studio at A&M at the same time we were doing 'Basketball Jones,' so [producer] Lou [Adler] asked him to come in and do a little guitar riff for us. And George is George; He literally made that song." 2018 marks the 45th anniversary of "Basketball Jones" and the duo's Los Cochinos album, but currently Cheech & Chong have been focused primarily on celebrating the 40th anniversary of their 1978 film comedy Up In Smoke. Also participating on the "Basketball Jones" session were Beatles lieutenants Klaus Voorman and Billy Preston, along with Carole King, Tom Scott and Nicky Hopkins. - Billboard, 4/20/18...... Elsewhere on the Fab Four front, Ringo Starr released a new video for the title track to his upcoming Give More Love album on Apr. 19. The clip, directed by Brent Carpenter, includes fan photos contributed especially for the video that were submitted in a contest sponsored by Ringo. "They (Ringo and the record company) told people to submit stills and video that to them meant 'Give More Love,'" says Carpenter, who added Ringo helped choose the images to be used. Meanwhile, on the same day Ringo announced plans for his 10th annual "Peace and Love" birthday event to take place July 7 at the Hard Rock Cafe in Nice, France, during his Ringo Starr & His All-Starr Band's upcoming European tour. Fans around the world can join in by saying or thinking "Peace and Love" at noon on July 7. Besides the live event, Hard Rock outlets around the globe will stream a special "Peace and Love" birthday video just before noon from Sir Ringo. After a date in Atlantic City, N.J., on June 2, Ringo and his band will head to Europe for 20 shows starting in Paris on June 6. They'll kick off a U.S. run on Sept. 1 at the Hard Rock Cafe in Tulsa, Okla. The ambitious 41-city summer trek will wrap on Sept. 29 at the Greek Theatre in Los Angeles. - Billboard, 4/19/18...... In more Beatles news, a sketch drawn by John Lennon depicting himself as Adolf Hitler sold at auction for $54,000 on Apr. 22. The controversial drawing, an ink doodle which situates Lennon behind a podium with his arm raised in a Nazi salute, is part of a larger sketch book that makes liberal use of Nazi iconography mixed with the likeness of the Beatles members. "(John) drew these when he was a college student, and the fact that he even thought of depicting himself as Hitler is weird," says memorabilia dealer Gary Zimet, who added "original Lennon drawings are very desirable and they are ultra rare." - New Musical Express, 4/22/18......

Sir Tom Jones and Sir Gordon Sumner, better known as Sting, were among the famous singers performing at an Apr. 21 concert in London marking the 92nd birthday of Queen Elizabeth II. Also serenading the monarch, who was in attendance, were Kylie Minogue, Shaggy, Craig David and Jamie Cullum. Highlights included Sting and Shaggy performing their reggae-infused single "Don't Make Me Wait," which appears on their collaborative album 44/8762. Queen Elizabeth, the world's longest-reigning living monarch, was accompanied by other members of the royal family, including her grandson, Prince Harry. Her actual birthday on Apr. 21, which she usually marks privately with her family, and her "official birthday" occurs in the summer and will be recognized with a military parade in central London. - AP, 4/21/18...... The original pair of tassled loafers worn by Michael Jackson during a rehearsal for his first-ever "moonwalk" during his iconic 1983 performance of "Billie Jean" during the 25th Anniversary of Motown special are conservatively expected to bring as much as $10,000 when they're put on the auction block on May 26 at the Hilton in Universal City, Calif. It has been verified that Jackson wore the black Florsheim loafers during the rehearsal, and probably during the actual performance as well. - NME, 4/21/18...... Paramount Pictures announced on Apr. 20 that it has picked up distribution rights for the upcoming Elton John biopic Rocketman. Paramount will also finance the picture, which will star Kingsman actor Taron Egerton as the legendary pop singer, from his days at the Royal Academy of Music to his rise to international stardom in the early 1970s. John and his husband, David Furnish will produce the picture under their Rocket Pictures banner, with Dexter Fletcher, who previously worked with Egerton on Eddie the Eagle, directing. - The Hollywood Reporter, 4/20/18...... Bette Midler announced on Apr. 20 that she will be returning to her lead role in the Tony Award-winning revival of "Hello, Dolly!" on July 17 for a six-week run that will close the production on Aug. 25. The iconic role of Dolly Levi marked The Divine Miss M's return to the Broadway musical stage in about 50 years and she shattered box office records at the Shubert Theatre. Midler won the Tony for best actress in a musical, and her co-star David Hyde Pierce earned a Tony nomination for his role in the production. Midler stepped into the role last spring and ended her run in mid-January. She was replaced by Bernadette Peters, who will now leave after the July 15 show. The first national tour of "Hello, Dolly!" kicks off in October at Playhouse Square in Cleveland, Ohio, starring Tony Award-winner Betty Buckley. - AP, 4/20/18......
The new Tina Turner jukebox musical "Tina" has opened at the Aldwych Theatre in London, showcasing the famed rock singer's tumultuous life story, from her humble beginnings in Nutbush, Tenn., through her remarkable comeback in the 1980's with her Private Dancer album. The adult Turner is played by Tony-nominated actress Adrienne Warren, and her domineering bandleader and ex-husband Ike Turner is portrayed by Kobna Holdbrook-Smith. Directing the project is Phyllida Lloyd, who is best known for helming the ABBA musical "Mamma Mia!," which became a global smash on stage and screen. - The Hollywood Reporter, 4/19/18...... Authorities in Minnesota released what they describe as the "vast majority" of evidence from their investigation into the Apr. 21, 2016, death of Prince on Apr. 20. The Carver County, Minn., sheriff's office released 15GB of data to the public under the Minnesota Government Data Practices Act, which includes images of Prince's body from the death scene, CCTV footage of the star visiting a doctor's office the day before he died, and interviews with individuals close to the singer who say they had been concerned about his health in the days leading to his death. Also included are photos from inside Prince's Paisley Park vault and a Sinead O'Connor police interview from May 2016 where she alleged that Prince had a history of drug use and violence towards women. "I've seen him in very frightening conditions after using drugs," O'Connor told police, adding: "He had been extremely violent to a number of women in his life, including myself, and several women were put in the hospital while Prince was under the effects of these medications." Carver County attorney Mark Metz said the musician, age 57, had suffered the overdose due to taking counterfeit pills, which contained the powerful painkiller fentanyl, and that no one will be charged in the case, although none of the medications found in Prince's home after his death had been prescribed to him, with some having been prescribed to his former drummer Kirk Johnson, and others found in vitamin bottles and envelopes. Meanwhile, a previously unreleased original version of Prince's iconic hit "Nothing Compares 2 U" was issued for the first time on Apr. 19 by the Prince estate in collaboration with Warner Bros. Records. "Nothing Compares 2 U" became a breakout No. 1 hit for Sinead O'Connor in 1990 was recorded at the Flying Cloud Drive "Warehouse" in Eden Prairie, Minn., by Prince's longtime engineer Susan Rogers and was originally composed, arranged and performed entirely by Prince. In addition to the saxophone breaks, the Prince version presents a more sensual take on the song. It has also been announced that Prince's unfinished memoir, The Beautiful One, will finally be released in the latter part of 2018. Prince had submitted only 50 pages of the handwritten memoir before his 2016 death, and the book may also feature "reproductions of Prince's longhand pages." - NME/Billboard, 4/20/18......

Comedy legend Carol Burnett will make her return to series television and her Netflix debut on May 4 with A Little Help With Carol Burnett. The show, which spotlights every day people receiving advice to their real-life problems from little kids, will also feature celebrity guests including DJ Khaled, Taraji P. Henson, Derek Hough, Taraji P. Henson, Derek Hough, Julie Bowen, Lisa Kudrow, Brittany Snow, Mark Cuban and Wanda Sykes, among others. - 4/16/18...... Verne Troyer, an actor best known for playing Mini-Me in the Austin Powers series, died on Apr. 21 of an as yet undisclosed cause. He was 49. "It is with great sadness and incredibly heavy hearts to write that Verne passed away today," a statement on his official Facebook page reads. "Verne was an extremely caring individual. He wanted to make everyone smile, be happy, and laugh. Anybody in need, he would help to any extent possible. Verne hoped he made a positive change with the platform he had and worked towards spreading that message everyday." The statement makes sweeping statements about depression and suicide. "Verne was also a fighter when it came to his own battles. Over the years he's struggled and won, struggled and won, struggled and fought some more, but unfortunately this time was too much," it says. Troyer, who grew up in an Amish community in Michigan, rose to fame after his Austin Powers debut in 1999's The Spy Who Shagged Me, and reprised the role in 2002's Austin Powers in Goldmember. He also played Griphook in Harry Potter and the Sorcerer's Stone and Coach Punch Cherkov in The Love Guru, and had guest spots on Sabrina the Teenage Witch, Scrubs, Two and a Half Men and Boston Public. Troyer also memorably appeared as Mini Me in the music video for Ludacris' "Number One Spot" from the 2004 album The Red Light District. Troyer vocally battled alcohol addiction, having nearly died in 2002 from alcohol poisoning following a breakup, and footage of drunken antics from the reality show The Surreal Life went viral. "That was a bad period in my life," he said in 2016. "I've learned from it, and I move on," however in 2017, he announced that he was receiving treatment for alcohol addiction on his Facebook page. Among those offering their condolences to Troyer are Austin Powers star Mike Myers, actress Marley Matlin, and musician Slash. - The Hollywood Reporter, 4/21/18.