Posted by Administrator on May 7th, 2018
Aerosmith headlined Day 6 of the 2018 New Orleans Jazz & Heritage Festival at the city's Fair Grounds Race Course on May 5 with a hit-packed set that kicked off with "Same Old Song and Dance," "Love In an Elevator" and "Cryin'." "I love this daytime s---!" singer Steven Tyler mused to the crowd watching the show during a light rain. "You can see me scratch my ass. I'm no better than you." The hits kept coming with "Livin On the Edge," "Rag Doll" and "Janie's Got A Gun," and a power-ballad break for "I Don't Wanna Miss A Thing," the band's only Billboard No. 1 so far, gave the crowd a chance to sing along. After "Dream On," the band took an encore break and returned with the crowd-pleaser "Walk This Way." During the two-hour set, guitarist Joe Perry provided a bluesy, calming partner to the 70-year-old Tyler's manic energy, proving the band is still a force to be reckoned with live. - Billboard, 5/6/18......
Meanwhile another 70-year-old rocker, Alice Cooper, told New York's Q103 radio station on May 4 that he'll only consider retiring "If we do a tour and nobody shows up, then I'm retired... That's never happened." Cooper continued: "In fact, we're doing better business now than we've ever done. More people are coming to the show now, and I've never felt better, so I don't see any reason to retire at all. I know a lot of guys are quitting, but a lot of guys still smoke and drink. They're probably tired. I'm not tired. People always say, 'Well, you could just play golf every day,' and I say, 'I play golf every day anyway!'" Cooper is currently involved in a range of projects, including the "supergroup" Hollywood Vampires, and there are rumours he may also open for KISS on their 2019 tour. He released his most recent album, Paranormal, in July 2017. - New Musical Express, 5/5/18...... AC/DC's classic 1980 album Back in Black has re-entered the Billboard Hot 200 album chart at No. 152, thanks in part to sales generated from a limited-edition cassette reissue of the album for Record Store Day. Its cassette has been out of print since 2006. Of the album's 6,000 units, 3,000 were in traditional album sales, with cassettes accounting for 45% of the set's total sales for the week ending May 5. Meanwhile, Sting has added another No. 1 to his impressive array of genre chart leaders as his new collaboration with reggae superstar Shaggy, 44-876, has yielded the first No. 1 for the former Police frontman on the Reggae Albums Chart. In addition to the pop chart, Sting has previously topped such lists as the Traditional Classical Albums, Classical Crossover Albums and Holiday Albums Charts. - Billboard, 5/4/18......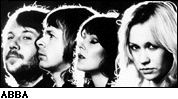 NBC announced on May 4 that an ambitious, star-studded two-hour special dedicated to Sweden's ABBA, Thank You for the Music, An All-Star Tribute, will air in December. The network says the special will be broadcast around the world, with the BBC handling international distribution, and feature a variety of "specially invited artists" performing ABBA hits like "Dancing Queen," "Mamma Mia," "The Winner Takes It All" and "Take a Chance On Me." It will also feature band members Agnetha Faltskog, Bjrn Ulvaeus, Benny Andersson and Anni-Frid Lyngstad performing their brand-new song "I Still Have Faith In You" with a twist. It will be "sung" by a virtual ABBA: digital representation of the band in 1979 but voiced and recorded by the band members today. Meanwhile, in a new interview with the UK's Daily Star paper, Andersson and Ulvaeus said that the band have actually been on a break until recently, after spending time apart to focus on other projects. "We never made the decision to say, 'We'll never do it again'," said Andersson. "Bjrn and I wanted to write 'Chess' together with Tim Rice. We said to ourselves and to the girls: 'We'll probably need two years, so let's take a break'. During this time they both made solo albums. But we needed four years for 'Chess'. Then we were like: 'It was four years, why should we get together again?'" Asked about the sound of their new material, Andersson replied: "One of the songs is like we would've written it [for] today. The other, we could've written in 1972." - Billboard/Deadline.com/NME, 5/4/18...... The Charlie Daniels Band will co-headline an upcoming tornado relief concert for the Jacksonville, Fla., area with country icons Alabama, Jamey Johnson and Riley Green at Jacksonville State University on Sept. 26, 2018. An EF-3 level tornado tore through Jacksonville and the JSU campus in March, and Alabama's Randy Owen says the storm did a "tremendous amount of damage" to his alma mater and the band wants to do its part to help. - AP, 5/2/18......
Paul McCartney was made a Companion of Honor by the Royal Family on May 4 during a ceremony at Buckingham Palace. King George V founded the Order of the Companions Honour in 1917, which is given as a reward for outstanding achievements to citizens of the Commonwealth realms. Sir Paul receives the honor 20 years after he was knighted by Queen Elizabeth II. "Congratulations Sir @PaulMcCartney who has been made a #CompanionofHonour at Buckingham Palace today for his lasting contribution to music in the UK and Worldwide," read the caption of the Royal Family's official Twitter account. McCartney was accompanied by his wife, Nancy Shevell, during the ceremony. - Billboard, 5/4/18...... In other Beatles-related news, Julien's Auctions announced on May 3 that Geroge Harrison's first first electric guitar will be auctioned at New York's Hard Rock Cafe on May 19. Harrison played the Hoffner Club 40 electric model when the Beatles played around Liverpool, England, as The Quarrymen. He traded his acoustic guitar for the electric model with Ray Ennis, who was a member of The Swinging Blue Jeans. Julien's estimates the guitar will sell for between $200,000 and $300,000. A 1965 Fender Telecaster owned by The Band's Robbie Robertson played by Harrison, Eric Clapton and Bob Dylan is also on the block and estimated to sell between $400,000 and $600,000. - AP, 5/3/18...... Neil Young and Crazy Horse reunited for a concert at Fresno, California's Warnors Theatre on May 1, their first show since 2014. Their completely unrehearsed gig was the first of a three-night stint that Young said "will be the beginning of another beautiful chapter" in the band's nearly 50-year history. The 15-song setlist included covers of such Young solo material as "Winterlong," "World on a String," "Too Far Gone," "Only Love Can Break Your Heart," "Walk On," "Like a Hurricane" and the encore, "Roll Another Number (For the Road)." When recently asked about the future of Crazy Horse, Young said: "Well, we have an incredible album that's in the can that's a recent album. Alchemy. Then we have a 2001 album, Toast. We have a 1969/70 album, early days, which is a lot of stuff nobody's heard." - New Musical Express, 5/2/18............

The Cars
singer/guitarist/songwriter
Ric Ocasek
and his model/actress wife
Paulina Porizkova
have decided to separate after 28 years of marriage, Porizkova announced on her Instagram page on May 2. "Our family always has been -- and still is -- a well-built car" the 53-year-old Porizkova wrote. "When the four of us are together, we can go wherever the road takes us. But as a bicycle, my husband and I no longer pedal in unison. So, we're ditching the bicycle," she added. Ocasek and Porizkova first met while filming the music video for the Cars song "Drive" in 1984 and were together last month when 74-year-old Ocasek was inducted into the Rock & Roll Hall of Fame. The couple has two sons. - AP, 5/3/18...... Drummer
Jabo Starks
, whose steady groove became the backbone for many of
James Brown
's classic hits, died on May 1 at his home in Mobile, Ala., after a battle with leukemia and myelodysplastic syndromes. He was 79. Mr. Starks, whose first name was John and whose nickname was sometimes spelled "Jab'o," was one of two drummers closely identified with Brown during his heyday in the 1960s and '70s. The other was
Clyde Stubblefield
, who died in 2017 and is remembered for his indelible drum solo on Brown's "Funky Drummer," perhaps the most sampled drumbeat of all time. Mr. Starks, who acquired his nickname as a baby, was born in Jackson, Ala., on Oct. 26, 1938, and grew up listening to gospel and blues. He became enamored with drums while watching a marching band in a Mardi Gras parade in Alabama. After graduation from high school, the self-taught drummer started playing with blues artists like
John Lee Hooker, Smiley Lewis, Howlin' Wolf
and
Big Mama Thornton
at the Harlem Duke Social Club in Prichard, Ala., a famous venue on the so-called chitlin' circuit. He joined Brown's band in 1965 and stayed with him until the mid-1970s, when he began touring and recording with
B. B. King
. He drummed on such Brown singles as "Get Up I Feel Like Being a Sex Machine," "Super Bad" and "The Payback," and all those songs, like most of Brown's work, have had long afterlives. They have been sampled in songs by hip-hop artists like
L. L. Cool J, Kendrick Lamar, A Tribe Called Quest, the Roots, the Black Eyed Peas
and
Kool Moe Dee
. Mr. Starks and Clyde Stubblefield played together again years after they parted ways with Brown. They formed a duo called
Funkmasters
, which released music and recorded instructional videos, and also worked together on the soundtrack for the 2007 movie comedy Superbad. His manager said that Mr. Starks last performed in March, at the Red Bar in Grayton Beach, Fla., where he had played since the mid-1990s. - Billboard, 5/2/18.
Appearing on CBS' The Talk program on Apr. 27, Barry Manilow revealed that he will be returning to the Westgate Resort & Casino in Las Vegas for 20 dates beginning in late May. "Manilow Las Vegas: The Hits Come Home" will be presented eight years after the Grammy, Tony and Emmy Award winner performed his residency at Westgate's International Theater from 2005 to 2010. The show opens for previews May 24-26, with grand opening weekend falling from June 14-16 just before Manilow's 75th birthday on June 17. Other show dates are June 21-23, July 19-21, July 26-28, Sept. 27-29, Oct. 4-6 and Oct. 11-13. - Billboard, 4/27/18......
Brian Wilson announced on Twitter on May 1 that he has been forced to cancel his May Pet Sounds performances due to a back problem requiring a medical procedure. Wilson, who underwent back surgery at least once before in 2012, said his condition "runs in the family... [brother] Carl had back problems as well," and apologized to his fans. The nine dates affected include shows in Washington, D.C., Nashville, Tenn., Richmond, Va., Augusta, Ga., Clearwater, Fla., Viera, Fla. and Pampano Beach, Fla. The canceled shows are expected to be rescheduled. Meanwhile, Wilson's former Beach Boys bandmate Mike Love posted a photo of the two performing together on his Facebook page, and wished Brian well: "I hope one day we'll be able to do this again," he said, adding that he was "looking forward to perhaps one day throwing some hoops." - Billboard, 5/1/18...... Paul McCartney and Metallica will be among the headliners at the 2018 Austin City Music Festival, set for the city's Zilker Park over the weekends of Oct. 5-7 and Oct. 12-14. The event will serve as McCartney and Metallica's sole North American festival dates for 2018, and other headlining acts include David Byrne, Shawn Mendes, Childish Gambino, Arctic Monkeys and Travis Scott. - Billboard, 5/1/18...... Speaking of David Byrne, the former Talking Heads frontman made his first appearance ever at the 2018 New Orleans Jazz & Heritage Festival on Apr. 29. Actor and part-time New Orleanian John Goodman cheered Byrne on from side stage during his minimalist set, with no amplifier or monitor visible. Goodman's an old pal of Byrne's going back to the 1986 cult favorite True Stories, starring Goodman, which Byrne directed, co-wrote and narrated. Byrne's setlist was largely focused on his new American Utopia LP, however he also performed crowd-pleasing Heads classics including "This Must Be the Place (Naive Melody)," "Once In A Lifetime" and "Burning Down the House." - Billboard, 4/30/18......
The committee responsible for the Tony Awards announced on May 1 that Bruce Springsteen will receive a special award for his blockbuster solo show "Springsteen on Broadway," which has become the top-grossing new production of the 2017-18 season. The honor, which had been widely anticipated in the theater community, was announced along with nominations in the competitive categories of the 72nd Annual Tony Awards. "Springsteen on Broadway" opened officially on Oct. 12 to rave reviews from both theater and music press, and was initially was scheduled to run through Nov. 26, but has been extended multiple times. The show, with average ticket prices around $500 (higher than "Hamilton"), is now scheduled to run through Dec. 15, 2018. The 72nd Annual Tony Awards are scheduled for June 10, and Springsteen will likely perform live on the CBS telecast before receiving his honor. - Billboard, 5/1/18...... In other Springsteen-related news, a red vinyl edition of the Boss' Greatest Hits LP helped the 11th annual Record Store Day on Apr. 21 become the biggest one yet. 580,000 vinyl albums were sold at independent retailers -- the single largest week for the format at the retail sector in Nielsen Music history. Holding the No. 2 position was David Bowie's live set Welcome to the Blackout (Live London '78), followed by Neil Young's Tonight's the Night Live at the Roxy. Bob Dylan & The Grateful Dead's Dylan & The Dead came in at No. 5, followed by a mono version of Pink Floyd's The Piper at the Gates of Dawn. Total album sales were up by 23 percent at independent record stores, as compared to Record Store Day week last year (799,000 vs. 649,000). - Billboard, 4/30/18...... The Who's Roger Daltrey was honored at the We Are Family Foundation gala at New York's Hammerstein Ballroom during a nostalgia-filled concert that also featured Chic's Nile Rodgers and LL Cool J. Named after Sister Sledge's 1979 classic "We Are Family" -- which was written and produced by Rodgers -- the non-profit We Are Family Foundation was launched following the 9/11 tragedy that struck New York in 2001 and creates programs for youth that encourages cultural diversity. Daltrey was awarded the Mattie J.T Stepanek Peacemaker Award for his organization, Teen Cancer America, and other charitable efforts. - Billboard, 4/28/18......
Bob Dylan has announced that he's starting his own whiskey company, dubbed "Heaven's Door" after his famous 1973 track. Including a straight rye, a Tennessee bourbon, and a double barrel whiskey, the collection represents a partnership with Marc Bushala -- co-founder of Angel's Envy bourbon. "I've been traveling for decades and I've been able to try some of the best spirits that the world of whiskey has to offer. This is great whiskey," Dylan said in an interview with the New York Times. - Spin.com, 4/28/18...... On Apr. 30 a spokesman for ABBA squashed rumours that the quartet could headline the 2019 Glastonbury Festival in the UK, and also dismissed chances of a renunion tour. "No, - definitely not. We should remember them how they were in the 1970s, and listen to how they sing today," ABBA spokeswoman and manager Gorel Hanser told the UK paper The Mirror. In late April, ABBA announced that they'd be releasing their first new material in 35 years, having recorded two new songs together. The band is currently plotting a "virtual" tour for 2019 using hologram technology, and UK bookies began offering 33/1 odds that the pop icons could headline Glasto in 2019. - New Musical Express, 4/30/18...... Alternative rock faves Foo Fighters were joined by Grease star John Travolta on stage for a cover of the 1978 movie's tune "You're The One That I Want" during a show in Jacksonville, Fla., on Apr. 29. Foo Fighters frontman Dave Grohl cryptically teased that "it gets better" during the start of the performance , before the Hollywood icon made his appearance on stage. It's believed that Travolta was in the area while he continues to film Moose, a new thriller directed by Limp Bizkit's Fred Furst. Another highlight of the show was Billy Idol joining the band for a cover of John Lennon's "Gimme Some Truth." - NME, 4/30/18...... A spokesman for Bonnie Raitt announced on Raitt's Facebook page on Apr. 30 that the singer/guitarist will miss the first leg of her upcoming coheadlining tour with James Taylor due to an unspecified health issue. "Following her annual physical, it was determined she needs to schedule some surgery soon. The prognosis is good and a full recovery is expected," read the statement. Raitt included a personal statement to fans, writing, "I'm deeply sorry to have to disappoint my fans, James and colleagues with these cancellations... I fully expect to return for the second leg of the US tour in June followed by our European tour in July." Raitt, 68, also asked for her fans to respect "my wish for privacy and giving me space to heal," promising to see them on the road again soon. - Billboard, 4/30/18......
On Apr. 30 a California court denied parole for former Derek and the Dominos drummer Jim Gordon, who is serving a life sentence for killing his mother in 1983. The California Board of Parole determined that the 72-year-old Gordon could be a risk of violence if released from the California Medical Facility in Vacaville, where Gordon is jailed. Gordon, who played on such iconic 1960's and 1970's tracks as Nancy Sinatra's "These Boots Are Made For Walkin'," Carly Simon's "You're So Vain" and, most famously, "Layla," as a member of Eric Clapton's band Derek and the Dominos, was diagnosed with schizophrenia at the height of his career. Beginning in 1978, he sought medical treatment at least 15 times, court records show, but he could not escape his mother's voice, which he claimed had tormented him for years. To confront the voices, Gordon drove to his mother's house, where he struck her head with a hammer and also stabbed her. In 1984 he was sentenced to 16 years to life, and "remains an unreasonable risk of threat to public safety," according to the parole board's decision. Today he reportedly refuses contact with lawyers and declines to attend parole hearings. He is said to rarely leave his cell, and often resists medication. A 2005 document shows he was collecting $4,000 a month in royalties at that time, and was disciplined for giving some of that money to fellow inmates. Gordon has served 34 years of his life term, has been denied parole 10 times now and will next be eligible for parole in 2021. - Billboard, 4/30/18...... A Massachusetts church building that was immortalized in Arlo Guthrie's classic 1967 track "Alice's Restaurant Massacree" is reopening after some recently completed upgrades. The building in Great Barrington, which was known as the Old Trinity Church and dates to 1829, is home of the nonprofit Guthrie Center and has been closed for about two months during the work. Upgrades include the restoration of the circular stained-glass window at the front entrance, a new ceiling in the great room and insulation. The building will with a memorial for a local journalist who recently died. Its regular schedule of community lunches, musical events and non-denominational services will start in early May. Guthrie's rambling 18-minute song about the 1960s counterculture appeared on his 1967 debut album and inspired a 1969 film of the same name. - AP, 4/30/18......

Funk icon George Clinton has announced he will retire from touring in May 2019. "This has been coming a long time," Clinton says in a statement announcing his retirement. "Anyone who has been to the shows over the past couple of years has noticed that I've been out front less and less." The Rock and Roll Hall of Famer and Parliament/Funkadelic frontman/producer, who turns 77 in July, recently underwent pacemaker surgery, but says that the procedure wasn't a factor in his decision. "Truth be told, it's never really been about me," Clinton says. "It's always been about the music and the band. That's the real P-Funk legacy. They'll still be funkin' long after I stop." Clinton and P-Funk have 50 dates scheduled through the end of 2018, including performances in Europe and Japan. He released a new single, "I'm Gon Make You Sick O'Me," in January featuring Scarface. - Billboard, 4/27/18...... Actress and painter Kris Nelson, the ex-wife of Ricky Nelson and mother of actress Tracy Nelson, musicians Matthew and Gunnar Nelson ,and Sam Nelson, passed away suddenly and unexpectedly on Apr. 26. She was 72. She was the daughter of football star Tom Harmon and the sister of actor Mark Harmon and actress-model Kelly Harmon. Kris had a recurring role on The Adventures of Ozzie and Harriet (1963-66) and Adam-12 (1975), and with Ricky headlined the film Love and Kisses (1965). "My mother, Kristin Harmon Nelson, passed away suddenly and unexpectedly last night," Tracy Nelson posted on her Facebook page on Apr. 27. "Love and light are welcome." - 4/28/18.