Posted by Administrator on April 7th, 2019
ABBA's Bjrn Ulvaeus has revealed that new music from the Swedish pop icons will arrive this autumn. Ulvaeus told Denmark's Ekstra Bladet tabloid on Apr. 3 that fans can expect a new song "in September or October." A new song titled "I Still Have Faith In You" was due to premiere on the BBC in December 2018. ABBA also recorded another new song called "Don't Shut Me Down." This comes after Ulvaeus hinted last year that the band's recent recording sessions could lead to "a new album, possibly." Ulvaeus added in the interview with Ekstra Bladet that the group's planned avatar spectacular, in which he, Benny Andersson, Anni-Frid Lyngstad and Agnetha Faltskog planned to reunite in a virtual tour featuring digital avatars, "has been delayed for too long," saying that "it takes an extremely long time" to make the video with the avatars of the group members. - New Musical Express, 4/3/19......

Aerosmith delivered the first performance of their "Deuces Are Wild" Las Vegas residency at the Park MGM on Apr. 6 that saw the Boston-based rock veterans blast through their greatest hits while re-tracing the steps of their journey to rock legend status. Before taking the stage, fans were taken on a trip down memory lane as eight towering screens projected tons of never-before-seen photos, concert reels, TV spots and interviews, including Aerosmith's 1991 appearance in the animated series The Simpsons. Frontman Steven Tyler also chose to sport a T-shirt bearing the "Simpsonified" versions of himself and his bandmates for their first night of the Vegas run. Tyler was in top form throughout the concert, which kicked off with the band's cover of The Yardbirds' "Train Kept A-Rollin'," followed by "Mama Kin," "Back in the Saddle," "Kings And Queens" and "Sweet Emotion." They wrapped the 16-song set with the 1-2-3 punch of "Dude Looks Like a Lady," "Dream On" and "Walk This Way." - Billboard, 4/7/19...... A rep for Mick Jagger confirmed on Apr. 4 that the Rolling Stones frontman has successfully undergone a heart valve procedure in New York and is "expected to make a full recovery." Doctors were reportedly able to access Jagger's heart valve through his femoral artery, using a a catheter without opening the chest, and are now monitoring the musician for any complications that could arise from the procedure, including excess bleeding. The minimally invasive procedure is believed to have been carried out at New York-Presbyterian/Weill-Cornell Hospital, and although the 75-year-old singer could be up an moving in a few days, he will need some additional recovery time before returning to the stage. On Mar. 31, the Stones announced they were rescheduling their North American "No Filter Tour" so that Jagger could have the procedure. Orginally slated to begin in April, the tour will now begin in July with new dates to be announced in the coming weeks. Meanwhile, Jagger became a great-grandfather for the second time on Mar. 31 after his 26-year-old grandaughter Assisi Jackson, whose mother is his 47-year-old daughter Jade, gave birth to her second daughter. Assisi and her chef boyfriend are already parents to a four-year-old daughter, Ezra, who was Mick's first great-grandchild. Jagger also has eight children, the youngest of whom, Deveraux, was born in 2016. - Billboard/WENN.com, 4/4/19...... In related news, Fleetwood Mac will be replacing the Rolling Stones at the upcoming 50th anniversary New Orleans Jazz & Heritage Festival in May. Fleetwood Mac will take the stage on May 2, the day the Stones had been set to appear before being forced to postpone their tour due to Mick Jagger's health. New Orleans Jazz Fest lineup will also feature Tom Jones, Ziggy Marley, Mavis Staples and Regina Carter's Southern Comfort, along with many local artists. Fleetwood Mac was forced to postpone a show itself on April 2 at Boston's TD Garden due to a "band member illness," according to a post by the venue on Twitter. The band has also since postponed their April 5 show in Philadelphia. It is unclear which band member is sick. In November 2018, the group rescheduled their concert at Rogers Place in Edmonton, Alberta, right before the show was set to begin after Stevie Nicks became ill. Tickets for the original Boston concert will be honored at the rescheduled show, or fans have the option to refund their purchases. - Billboard, 4/4/19...... Michael Jackson's family has decided to speak out against the recent bombshell allegations of sexual abuse against the pop star made by Wade Robson and James Safechuck in the HBO documentary Leaving Neverland. In a new 30-minute film posted online titled Investigating Neverland, journalist Liam McEwan interviews several of Jackson's relatives and inner circle, who vehemently defended him against numerous claims. MJ's 37-year-old niece, Brandi Jackson, details how she originally met Robson, when she was about nine years old in 1991. The two would go on to become best friends and dated for nearly a decade. "Everything was fine until he was about 17 or 18, when I noticed his behavior changed. That's when he began to cheat," she explained. "As I would confront him about these things, he would say, 'No these aren't true.' Constantly lying. He denied [the infedelities]." Brandi continues: "He has always been a bit of an opportunist. He knows how to position himself in different situations that will benefit him in a financial way. Once other jobs weren't coming through, this was his next outlet," Brandi continued. Her relationship with Robson was left out of Leaving Neverland. "It would discredit the things he's trying to claim. I find it fascinating that he thinks he's able to erase 10 years of life." If presented with the opportunity to confront Robson, Brandi says, "I would tell him to stop lying. I'm not curious as to why he's doing it, he needs to stop. I don't care what his reasoning is, as far as trying to be relevant, desperate for money. These lies need to stop. It's not okay. My uncle took care of him and did very well by his family." - Billboard, 4/5/19......

Queen drummer Roger Taylor has released a new politically-themed solo single, "Gangsters Are Running This World." The track -- his first new music in more than five years -- feature lyrics that address the state of the world. "There's blood in the streets / Panic in the air / The markets are trading up / In madness and fear," Taylor sings in the new song. It's not the first time that Taylor has made political statements in his material. In 1994 he released the single "Nazis" while his 1998 album Electric Fire featured a cover of John Lennon's "Working Class Hero." In 2011, Taylor re-released a protest song he wrote about media tycoon Rupert Murdoch. There were no details of a possible new album with the release of "Gangsters Are Running This World." - New Musical Express, 4/2/19...... Ozzy Osbourne announced on Apr. 5 that he has been forced to postpone all his 2019 North American and European as he recovers from an injury he sustained while recovering from a recent bout of pneumonia. "I can't believe I have to reschedule more tour dates," Osburne, 70, said in a statement. "Words cannot express how frustrated, angry and depressed I am not to be able to tour right now. I'm grateful for the love and support I'm getting from my family, my band, friends and fans, it's really what's keeping me going. Just know that I am getting better every day...I will fully recover... I will finish my tour... I will be back!" In the statement, Osbourne said he fell at his Los Angeles home and aggravated a years-old injury from a 2003 ATV accident, requiring an unspecified surgical procedure in March. He will reportedly remain under a doctor's care in L.A. as he recovers. On Feb. 19, Osbourne was forced to cancel shows in Australia, New Zealand and Japan on his "No More Tours 2" as a result of developing pneumonia from the flu. The news came a week after wife/manager Sharon Osbourne revealed the rock star had been released from intensive care unit. In early March, Ozzy's song Jack Osbourne said in an interview that his dad was "back to his normal routine" following hospitalization for complications from the flu. According to the new statement, all of Ozzy's shows will be rescheduled beginning in February 2020, with ticketholders asked to hold onto their original tickets, which will be honored at the rescheduled dates. - Billboard, 4/4/19...... Former presidental candidate Hillary Clinton was spotted in the audience at the Cher-themed Broadway musical "The Cher Show" on Apr. 3. The former presidential candidate was happy to pose with the cast for snaps at the Neil Simon Theatre, which were shared wide on Twitter and Instagram. Cher and Clinton are friends from way back. The pop legend is a longtime - and vocal -- supporter of Clinton and in 2016 campaigned for the former First Lady at a string of campaign events. Cher will be on the road through much of the year with her "Here We Go Again" tour, which has just expanded with 14 new dates. "The Cher Show" traces the trailblazing singer, comedienne, actress's career. - Billboard, 4/4/19...... A full house congregated on Mar. 31 at the New Temple Missionary Baptist Church for the Los Angeles premiere of the Aretha Franklin concert documentary Amazing Grace, which chronicles the live, two-day recording of Franklin's best-selling gospel album of the same name. In the exact spot where the film and album were originally recorded 47 years ago, viewers clapped and cheered in the blue-upholstered pews as the late Franklin sang onscreen, echoing those who sat in her presence in 1972. Amazing Grace, which recently won the NAACP Image Award for best documentary film, was remastered and released on March 22 by the American film production and distribution company Neon. - The Hollywood Reporter, 4/3/19...... Tom Petty's widow and his two daughters are reportedly locked in a fierce legal battle as they feud over the late singer's will and the future of his unreleased music. According to the celebrity gossip site TMZ.com, Petty's wife Dana York Petty and his daughters Adria and Annakim Petty are feuding over the late music icon's estate. In a petition filed in Los Angeles County court, Dana states that she is in control of Petty's estate -- but Adria and Annakim, his daughters from a previous relationship, say that their father always intended for them to be involved too. Dana has also accused Tom's daughters of verbally attacking Petty's former bandmates and making it increasingly difficult for her to control the estate. The court filing also sees Dana accusing Petty's daughters of blocking the release of solo material he recorded 25 years ago. His widow reportedly wanted to include the tracks on a 25th anniversary box set reissue of his seminal 1994 album Wildflowers and expected the project to have pulled in more than $1 million in royalties. Petty died on October 2, 2017, of an accidental drug overdose. He was 66 years old. - NME, 4/3/19......
It has just been revealed that George Harrison once sent an angry telegram to then president Richard M. Nixon after being detained at a U.S. airport in March 1973 to discuss the Beatles' record company Apple and to work on Ringo Starr's album Ringo. Beatles researcher Chip Madinger, the co-author of Eight Arms to Hold You and Lennonology: Strange Days Indeed, says when he researched the latter book he did a Freedom of Information request and got John Lennon's INS [Immigration and Naturalization Service] file "and just went ahead and got George's at the same time." "[George] came in from Pakistan and was detained at the airport. And they went through some 'he said and she said' and but eventually was allowed to come into the States. And I believe he was given permission to stay until June 1 and he was looking for more time," Madinger says. "He'd supposedly gone to an INS office and gotten an OK to stay until the 30th of June. And he wanted more time beyond that. And that's when it was denied. So he and [wife] Pattie Boyd shipped back to the U.K. on, I believe it was, June 28th of '73. And he must have just gotten a bee in his bonnet or something about it and wrote this telegram." The telegram, addressed to "President Richard Nixon, White House DC," with misspellings, reads: "Sir, how can you bomb Cambonian (sic) citizens and worry about kicking me out of the country for smoking marijuana at the time. Your repressive emperaour (sic) war monger ways stop before too piece (cq) luv (cq). We will run the world Harry Krisher, Hare Hara Krishne Hare Hara Hare Hara Krishner. George Harrison." "I think it's clear that he dictated it because of the misspellings in it," Madinger says. John Lennon also famously had immigration problems with the U.S. government in the early '70s after the Nixon Administration feared he would galvanize young voters, so they then moved to deport him. Lennon's victory came in four steps in Federal Court. He and wife Yoko Ono were first approved as "outstanding artists" and then was given "non-priority status" to keep from being deported. Lennon also sued the government for "selective prosecution," and lastly won an appeal on the deportation order. The Lennon case became an important legal precedent in immigration law. - Billboard, 4/5/19...... In other Beatles-related news, Paul McCartney's 2019 tour of Latin America has broken the $100 million threshold, earning $17.8 million from four South American shows. Of that total, he has earned $21.5 million in Argentina (four shows) and $47.8 million in Brazil (10 shows). His recent shows in late March at Brazil's Allianz Parque were his first double-header in the country and as such, become his highest-grossing engagement there. - Billboard, 4/4/19...... Robin Trower, Maxi Priest and Livingstone Brown will embark on a nationwide U.K. tour in October 2019, playing Holmfirth on Oct. 24, Edinburgh on Oct. 25, Newcastle on Oct. 27, Birmingham on Oct. 28 and London's Shepherd's Bush Empire on Oct. 29. The three musicians have joined forces on a new album, United State of Mind, which will be released later in 2019. After a chance meeting at Brown's recording studio in Brixton, the unlikely duo of Trower and Priest hit it off. Both are directly influenced by soul and gospel music and still share a mutual passion for the genre. Robin, Maxi and Livingston went even further, striking up a very productive joint songwriting partnership, that quickly developed over a dozen new songs. In the 90's Brown played in Trower's band and co-produced his highly rated 20th Century Blues album. - Noble PR, 4/4/19...... Veteran British blues rockers Savoy Brown, with leader Kim Simmonds at the helm, will return with this summer with their 40th album, City Night, set for a June 7 release via Quarto Valley Records. The new 12-track album features Simmonds on vocals and searing lead guitar and includes such tracks as "Walking On Hot Stones," "Payback Time" and "Don't Hang Me Out To Dry." Savoy Brown was formed by guitarist Simmonds in 1965 in London. Simmonds has been the group's guiding hand from the first singles released in 1966 through the band's newest effort, their 40th album. Savoy Brown has announced five U.K. dates in which they will premiere songs from the new album. They will play Banham (4/11), London (4/12), Sheffield (4/14), Wolverhampton (4/15) and Edinburgh (4/15). - Noble PR, 4/5/19......
The Eagles announced on Apr. 2 they will perform their 1976 album Hotel California in its entirety in concert for the first time. According to promoter Live Nation, the performance will take place on Sept. 27 and 28 at MGM Grand Garden Arena in Las Vegas. Tickets will go on sale through Ticketmaster on Apr. 12. Don Henley, Joe Walsh and Timothy B. Schmit will be joined by Deacon Frey and Vince Gill on both nights for what will be the group's only North American performances of 2019. Founding member Glenn Frey, Deacon's father, died in 2016. Hotel California is the third best-selling U.S. album in history, and features the Grammy-winning songs "Hotel California" and "New Kid in Town." The Eagles have won six Grammy Awards and were inducted into the Rock and Roll Hall of Fame in 1998. - AP, 4/2/19...... Bill Isles, an original member of the chart-topping R&B group The O'Jays, has died at his southern California home in Oceanside, just north of San Diego. He was 78. Isles died of cancer on Mar. 28, and his funeral was held on Apr. 6, according to his son, Duane Isles. Bill Isles and his childhood friends in Canton, Oh., formed The Mascots in 1958 before changing the name to The Triumphs and releasing a single in 1961. The band changed its name to The O'Jays after getting pivotal advice from a Cleveland DJ named Eddie O'Jay. Isles was featured on songs including "Lonely Drifter" and "Lipstick Traces" before he quit the group in 1965. Duane Isles says his father was The O'Jays' tour manager between 1971 and 1974, when the group released its biggest hits, "Love Train" and "Back Stabbers." The O'Jays were inducted into the Rock and Roll Hall of Fame in 2005. Isles spent the latter part of the 1970s in Los Angeles before moving his family in 1981 to Oceanside. - AP, 4/7/19...... Actor Noah Keen, who appeared in several episodes of Bonanza as well as such series as Mission: Impossible, Perry Mason, Cagney and Lacey and The Twilight Zone, died at his home in Harlem, N.Y., on Mar. 24. He was 98. His film credits include Battle for the Planet of the Apes, Tom Sawyer and Big Hand for a Little Lady. Mr. Keen, who was born in Cincinnati and served as a bombardier in WWII, moved to NY and worked at NBC. On his way to becoming a director, he decided he wanted to try acting, which became his passion. After several off-Broadway plays he made his way to the West Coast, where he was hired to appear in Bonanza. He is survived by his wife, Gerrianne, his daughter Evan, and two grandsons, Greyson and Riley. - The Los Angeles Times, 4/25/19.
Elvis Costello & The Attractions and Blondie have announced a co-headlining 13-city tour this summer set to kick off on July 20 at the Bethel Woods Center for the Arts in New York. The tour, in honor of the two groups' long friendship and past collaborations, will also visit Boston, Las Vegas, Los Angeles and more, before wrapping Aug. 10 at Chateau Ste. Michelle Winery near Seattle. Costello and his band will be playing songs from his deep catalog, including his latest effort, 2018's Look Now. Blondie is touring in support of their 2017 album Pollinator. - Billboard, 4/2/19...... A musical inspired by the music of Queen has been announced for a tour of North America following the success of the recent Queen biopic, Bohemian Rhapsody. Producers announced on Apr. 1 that "We Will Rock You" will open in Winnipeg, Canada, on Sept. 3. The tour will stop in other cities including New York, Los Angeles, Denver and Las Vegas. The original production in London's West End opened in 2002 and featured music supervision from Queen band members Brian May and Roger Taylor. The producers say the musical reflects the scale and spectacle that marked Queen s live performances, and casting for the North American tour is currently underway. - AP, 4/1/19......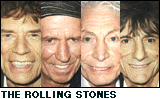 The Rolling Stones are reportedly planning to return to the road by this July after after the band was forced to postpone its nine-week "No Filter" tour across the US and Canada when frontman Mick Jagger was told by his doctors that he needs to have a damaged heart valve replaced in early April. The 75-year-old Jagger, who follows a strict diet and exercise regime, is expected to make a complete recovery, as heart valve replacement surgery has a 95% success rate. The rock icon had undergone a routine scan that alerted doctors to an unexpected issue that could require hospital treatment. Despite being ordered to rest, Jagger is said to have told friends he "feels great" and that he is already "bored" of taking it easy. He was spotted on Mar. 31 playing with his youngest son on a beach in Miami and taking it easy ahead of the surgery. Jagger was seen enjoying some family time with two-year-old Deveraux, girlfriend Melanie Hamrick and daughter Georgia May after cancelling the sell-out North American tour which was due to start on Apr. 20. The postponed dates include the Stones' set at New Orlean's Jazz Festival on May 2, as well as the recently added show planned for Canada Day weekend on June 29 in Ontario. Jagger, a father of eight, apologized to fans on Twitter for the cancellation of the tour. "I really hate letting you down like this. I'm devastated for having to postpone the tour but I will be working very hard to be back on stage as soon as I can. Once again, huge apologies everyone," he posted. In 2016, Jagger pulled out of a show in Las Vegas owing to what was described as "bad laryngitis." Two years earlier, the band cancelled the entire Australasia leg of their world tour due to Jagger's devastation over the suicide of his girlfriend L'Wren Scott. - Billboard/DailyMail.co.uk, 4/1/19...... The Who's long-shelved "Lifehouse" project is to be made into a graphic novel more than four decades after the ambitious rock opera was intended to be released, Who guitarist Pete Townshend announced on Apr. 1. "A graphic novel based on my very first 1970 concept for The Who's abandoned Lifehouse project is perhaps the most exciting creative development in my long career," Townshend said in a statement. "Lifehouse always had a strong and important visual story that was never even touched on. Even by 1971, when Lifehouse was written, it had to be treated as a film script, which was entirely beyond my skill set, and beyond the financial scope of The Who," Townshend continued. "If I had completed my art studies, instead of staying with The Who, I might have made my own graphic novels. I am excited then, with huge anticipation, that at last Lifehouse can be realised visually, and as a story -- part science fiction, part spiritual allegory." Townshend originally wrote the opera as a follow-up to the band's 1969 album Tommy, which was later adapted for stage and screen. But Lifehouse was abandoned in favour of the group's 1971 record, Who's Next. In March, Townshend announced the release of his debut novel, The Age of Anxiety, on Nov. 5 of 2019. It is described as a "great rock novel [that] captures the craziness of the music business through a cultured, witty, and unreliable" narrator. - New Musical Express, 4/1/19...... Willie Nelson has announced his 46th annual 4th of July Picnic concert will return to Circuit of The Americas' Austin360 Amphitheater on July 4 in Austin, Tex. This year's concert will also feature performances by Luke Combs, Nathaniel Rateliff & The Night Sweats, Alison Krauss, Jamey Johnson and many more. The all-day event held on America's birthday features performances from artists on two stages. In March, Nelson also announced the lineup for his 2019 Outlaw Music Festival Tour, set to launch on June 14 in Bangor, Maine, will also feature Krauss, Phil Lesh & Friends, The Avett Brothers, The Revivalists and more. - Billboard, 4/1/19...... Michael Jackson's Neverland Ranch, which is now known as Ojai's Sycamore Valley Ranch, has been languishing on the real estate market even before the recent controversial Leaving Neverland documentary. Its asking price was slashed from $69 million to $31 million a few days before the premiere of Leaving Neverland, a four-hour documentary that centers on the testimonies of Wade Robson and James Safechuck, who allege that Jackson sexually abused them as children. Meanwhile, Jackson's daughter Paris Jackson and her boyfriend Gabriel Glen played their first public show as the Soundflowers on Mar. 30 at The Mint in Los Angeles. The intimate, mostly seated venue was packed with the duo's friends and family, including Paris' older brother Prince Michael, mother Debbie Rowe, cousin TJ Jackson and Godfather Macauley Culkin. - The Hollywood Reporter/Billboard, 3/31/19......

Stevie Nicks, Roxy Music, Def Leppard, Janet Jackson, The Cure, Radiohead and The Zombies were formally inducted into the Rock and Roll Hall of Fame on Mar. 29 during an induction ceremony at Barclays Center in New York City. Nicks, already a Rock and Roll Hall of Famer as part of Fleetwood Mac, was inducted as a solo act, and opened the show with her pounding 1983 hit "Stand Back." "This is the original cape from 'Stand Back,'" Nicks pointed out to the crowd. "My frugal mother would've appreciated that." Well, at least eventually. "If she found out how much it cost in 1983 ($3,000), she would've grounded me, even though I was too old to ground." After a duet with the Eagles' Don Henley on "Leather and Lace," the pair's 1981 duet, Nicks welcomed another surprise guest, rising singer Harry Styles, for a duet of "Stop Draggin' My Heart Around," originally recorded by Nicks and the late Tom Petty. Nicks closed her set with "Edge of Seventeen," after which Styles returned to the stage to induct her and praise her as the first female artist to be inducted into the Rock Hall for a second time. "She is forever current," Styles said. "'Dreams' was the first song I knew all the words to before I even knew what it meant -- I thought it was a song about the weather," he said to laughter. Also that evening, Bryan Ferry reunited with some of his Roxy Music bandmates including multi-instrumentalist Andy Mackay and guitarist Phil Manzanera for performances of such Roxy classics as "In Every Dream Home A Heartache," "Out Of The Blue," "Love Is The Drug," "More Than This," "Avalon" and "Editions Of You." Former Roxy members Brian Eno and Paul Thompson were not present due to other commitments, however a selection of musicians who have also played with Ferry and the band over the years accompanied Ferry, Mackay and Manzanera, including Chris Spedding, Neil Jason and Fonzi Thornton. "I'd like to thank everybody for this unexpected honor, especially our fans around the world, who've supported us through the years," said Ferry, after the band was inducted by Simon Le Bon and John Taylor of Duran Duran. Def Leppard led and all-star jam to close out the ceremony, which included an all-star jam of Mott the Hoople's 1972 David Bowie-penned song "All the Young Dudes" that included Queen's Brian May; the Zombies' Colin Blunstone and Rod Argent; the Bangles' Susanna Hoffs; "Little" Steven Van Zandt; and Mott the Hoople's Ian Hunter. Earlier in the evening, Brian May gave the induction speech for Def Leppard, calling the pop-metal band a "magnificent rock group, in the classic tradition of what a rock group really is." - Billboard/New Musical Express, 3/30/19...... Speaking of Mott the Hoople, the veteran '70s rockers kicked off an 8-date tour of selected U.S. cities on Apr. 1 in Milwaukee. Other dates on the "Mott the Hoople '74" tour include Minneapolis (4/2), Chicago (4/3), Detroit (4/5), Cleveland, Oh. (4/6), Glenside, Penn. (4/8), and Boston (4/9) before wrapping at New York's Beacon Theatre on Apr. 10. Touring with Hunter will be two members of Mott's 1974 incarnation, keyboardist Morgan Fischer and guitarist Ariel Bender, however two key members -- bassist Pete Watts and drummer Dale "Buffin" Griffin -- have died in the last few years, and guitarist-songwriter Mick Ralphs can't appear due to complications from a stroke he suffered in 2017. Hunter was asked if he had any thoughts on turning 80, which happens two months after the tour ends. "I feel great about it! 80 sounds sunshiny and clear and lovely, and 79 sounded all murky. I didn't think I'd make 50, so this is all a bonus," he said. - Billboard, 4/1/19...... The Brach's candy company has announced the release of special "Purple Rain" jelly beans for Easter holiday this year in honor of the late Prince, who died three years ago on Apr. 21, also the date of Easter in 2019. The "Purple Rain Tiny Jelly Bird Eggs" will feature four flavors: berry, blueberry, blue raspberry and grape and be available in 3 oz and 11 oz bags. - Billboard, 3/29/19......

Original The Village People member, "cop" Victor Willis, has announced he plans on "rebooting" the famous '70s disco group after years of legal issues have been settled. The "YMCA" hitmakers began life back in 1977, created by French producers Jacques Morali and Henri Belolo. Appearing alongside Willis' policeman alter-ego were the GI, the builder, the cowboy, the biker, and the Native American. After original frontman Willis quit the band back in 1979, he is now looking to bring the Village People back as his own -- with years of legal issues surrounding royalties finally resolved. "There was nothing I could do about it until this legal stuff was straightened out," Willis told the BBC on Mar. 31 of returning to front the group. "And this just happened to be at the 40-year anniversary of Village People. Everything seemed to fall into place where I could say, 'OK, it's time for me to take over the group again.'" Willis added: "Not a reunion, but to reboot the group. To have to get new characters. Then I have to get a band like when Jacques and I first sat down and decided we're going to create this Village People thing." He went on to explain that the new incarnation of the group will be "something that's live" and "real." "And this what I came back to do," he said. Willis won a landmark royalties court case back in 2012, which gave him back partial ownership of a number of Village People tracks. In 2009, he sued a new version of the band for $1 million over image issues. He sought the damages after claiming that his image and voice had been used for new promotional purposes without his consent. Willis recently wrapped up his "40 Years of Disco UK" arena tour. - New Musical Express, 3/31/19...... Elton John is standing by actor George Clooney's call to boycott hotels owned by the Sultan of Brunei after the country passed a law that would allow stoning LGBTQ people to death. He was referring to an op-ed Clooney penned for Deadline.com about the Asian nation's law and its Sultan, Hassanal Bolkiah, who is instituting the law and happens to be the owner of several luxury hotels around the world. ("On this particular April 3rd the nation of Brunei will begin stoning and whipping to death any of its citizens that are proved to be gay," Clooney wrote. "Let that sink in." "Our hearts go out to the good, hardworking employees of properties owned by the Sultan of Brunei, many of whom we know to be gay," John said. In another tweet, Sir Elton added: "We must send a message, however we can, that such treatment is unacceptable. That's why [my husband] David [Furnish] and I have long refused to stay at these hotels and will continue to do so. We hope you will join us in solidarity." John then provided a list of hotels he's urging others to boycott: The Dorchester in London, 45 Park Lane in London, Coworth Park in the U.K., the Beverly Hills Hotel in Beverly Hills, the Hotel Bel-Air in Los Angeles, Le Meurice in Paris, Hotel Plaza Athenee in Paris, Hotel Eden in Rome and Hotel Principe di Savoia in Milan. - Billboard, 3/30/19...... A museum in Tulsa, Okla., will soon open a new Bob Dylan exhibit that will showcase 12 pastel portraits painted by the iconic musician. Tulsa's Gilcrease Museum will display "Bob Dylan: Face Value and Beyond" from May 10 to Sept. 15. The exhibit is filled with pieces from the Bob Dylan Archives, which has more than 100,000 items from his 60-year career. It's the first major show from the archives since it was acquired by the George Kaiser Family Foundation and the University of Tulsa in 2016. The paintings highlight Dylan's multifaceted artistic capabilities, said Michael Chaiken, the archive's curator. "He's best known for his music, but Dylan is also a writer of prose, a filmmaker and someone who has been involved in the visual arts for decades," Chaiken said. "This show is an opportunity to explore all those different avenues of Dylan's creativity." The portraits were first shown in London in 2013. The only time they were on display in the U.S. was during a two-month exhibit in Ohio in 2016. The exhibit will also include handwritten song lyrics, a black leather jacket, an electric guitar and screen tests filmed by Andy Warhol. - AP, 3/30/19...... The Grateful Dead has announced it will reissue its 1969 album Aoxomoxoa on June 7 in honor of the LP's 50th anniversary. The two-disc deluxe edition will include the original album with newly remastered sound, plus a bonus disc of unreleased live recordings. The album will also be released as a 12-inch picture disc as a limited edition of 10,000 copies on Rhino Records. Aoxomoxoa is the third studio recording from the Grateful Dead. There will be two versions included in the release: One is fully remastered from the original 1969 recording, and the other remastered from the 1971 band-produced mix. Also included is a bonus disc with previously unreleased live music recorded January 24-26, 1969, at the Avalon Ballroom in San Francisco. - Billboard, 3/28/19......

Motown Records released the previously unheard "lost" Marvin Gaye album, You're the Man, on Mar. 29. The posthumous record features 17 tracks from the scrapped follow-up to the late soul icon's legendary 1971 album, What's Going On. The songs were recorded back in 1972 in Detroit and Los Angeles, including new versions of "My Last Chance," "Symphony," and "I'd Give My Life for You," mixed by Amy Winehouse producer Salaam Remi. An extended version of "I Want to Come Home for Christmas," is also among the tracks. It marks the first time that all of the Motown legend's follow-up tracks will appear together. - Billboard, 3/29/19...... Actor Tom Hanks is reportedly in talks to play Elvis Presley's manager, Colonel Tom Parker, in a forthcoming Presley biopic from Austrailian filmmaker Baz Luhrmann (Romeo + Juliet, The Great Gatsby). Luhrmann, who co-wrote the screenplay with Craig Pearce, is reportedly seeking an unknown actor for the main role of Elvis, with the director apparently meeting potential candidates at present. It's also thought that, should Hanks agree to play Parker, Warner Bros. will likely allocate a significant budget for Luhrmann's picture -- with the director reportedly seeking to start production on the biopic later in 2019. Parker came across Elvis in 1955 and subsequently signed him up as an exclusive client the following year. Born in the Netherlands, Parker was largely responsible for a number of milestone moments in Elvis' career, including the successful negotiation of his landmark record contract with RCA. - NME, 3/29/19...... Rockabilly musician Billy Adams, best known for writing and recording the rockabilly staple "Rock, Pretty Mama," died on Mar. 30 in Westmoreland, Tenn. He was 79. Adams once said he was inspired to write "Rock, Pretty Mama" listening to the sound of trains near his home. It was released in 1957 and was included in multiple compilations of rockabilly songs. He recorded a comeback albun at Sun Studios in Memphis in 200 called Legacy. Among other songs he recorded in the late 50s include "You Heard Me Knocking," "True Love Will Come Your Way," and "You Gotta Have a Duck Tail." The Redbush, Kentucky native was also an inductee into the Rockabilly Hall of Fame. - AP, 4/1/19...... Shelley Lazar, the president of SLO VIP Ticket Services and a longtime veteran in the VIP ticketing space with four decades of experience dating back to her work with legendary rock promoter Bill Graham, passed away on Mar. 31 after a battle with cancer. She was 69. Lazar, known to her friends as "the MFTQ" (Mothaf---ing Ticketing Queen), worked on hundreds of tours for artists including the Rolling Stones, Paul McCartney, Elton John, Bob Dylan, Paul Simon and Lady Gaga. She created SLO Limited in 2002, building it into one of live music's most successful VIP ticketing providers, selling her company in 2008 to Ticketmaster where she had worked until becoming ill. Lazar also sat on the board of the Bill Graham Memorial Foundation, Little Rock Kids, the Taylor Family Foundation, Tipping Point Community, Human Rights Watch and the Elton John AIDS Foundation. - Billboard, 3/31/19.