Posted by Administrator on April 17th, 2019
The Pulitzer Prize jury announced on Apr. 15 that Aretha Franklin is being honored with a posthumous Pulitzer Prize Special Citation for her contribution to American music and culture. "Congratulations to @Aretha Franklin and her family and friends," the Pulitzer Prize account tweeted to make the announcement, using the hashtags #QueenofSoul and #Respect. The jury occasionally awards the Special Citations when deemed necessary, and has previously awarded them to the likes of Bob Dylan, Hank Williams, John Coltrane and Thelonious Monk. Franklin, who passed away on August 16th at age 76 after a battle with pancreatic cancer, is also the recipient of a Kennedy Center Honor, the Presidential Medal of Freedom, and was the first woman inducted into the Rock and Roll Hall of Fame in 1987. - Billboard, 4/15/19...... Carly Simon is writing an "intimate, vulnerable" memoir about her famous late friend, Jacqueline Kennedy Onassis, publisher Farrar, Straus and Giroux announced on Apr. 15. The press release states that Simon and Onassis, who died in 1994, met at a summer party on Martha's Vineyard and began an "improbable, but lasting friendship" with Onassis becoming everything from a "protective mother figure" to a "mischievous pal" to the popular singer/songwriter. Titled Touched by the Sun, the book has been given an Oct. 22 release date. - PageSix.com/The New York Post, 4/15/19......

Songwriter/singer Kenny Nolan, the composer of such iconic '70s hits as LaBelle's "Lady Marmalade," Frankie Valli's "My Eyes Adored You" as well as his own 1976 No. 3 hit "I Like Dreamin'," has filed a $20 million lawsuit against Sony/ATV Music Publishing for breach of contract and copyright infringement, according to court documents filed April 10. According to the suit, filed in U.S. District Court in California, Nolan alleges that Sony/ATV bought the publishing rights to dozens of his compositions without his knowledge and have been failing to pay him his fair share of royalties ever since. Nolan claims that after licensing his 50% share of the publishing rights to 77 compositions -- including "Lady Marmalade" -- to his former co-writer Bob Crewe, Crewe later licensed those compositions to music publisher Stone Diamond. Nolan alleges that Stone Diamond then sold the rights to Sony/ATV without his knowledge or consent. EMI April Music, EMI Blackwood and Stone Diamond Music Corporation are also named as defendants in the lawsuit. Nolan is seeking a total of at least $20 million to be determined at trial, as well as a "necessary and appropriate accounting to determine exactly how much money Sony/ATV owes him. A representative for Sony/ATV declined to comment. - Billboard, 4/16/19...... Attorney John Branca, a co-executor of the Michael Jackson estate, spoke publicly for the first time about the controversial Jackson documentary Leaving Neverland and indicated that he's considering suing the film's director, Dan Reed. At a panel discussion titled "Trial by Media: Guilty Until Proven Innocent" presented at Harvard's Institute of Politics in Cambridge, Mass., on Apr. 16, Branca and other members of Jackson's legal team including Howard Weitzman and Bryan Freedman had harsh words for the documentary and Reed, telling the small audience they were determined to defend and rebuild Jackson's reputation in the wake of Leaving Neverland, which contained disturbing and graphic first-person accounts of Jackson's alleged pedophilia but did not give the estate a chance to respond to these accusations. Branca said although the estate has taken a hit after the airing of the documentary, streaming sales of Michael's music is still up from 2018. He added that "From the point of view of society, I want to make it so people feel comfortable saying, 'I love Michael's music.' Michael is too big to fail." In February, the estate filed a $100-million lawsuit against the pay-cable network HBO, which aired the documentary in the US, alleging it had violated a non-disparagement clause contained in a 1992 agreement to premiere Jackson's concert film, Live in Bucharest: The Dangerous Tour. - Billboard, 4/16/19...... The Victoria & Albert Museum in London has named its new photography gallery in Elton John's honor after the superstar recently made a "significant donation" to the attraction. Recognizing John and his husband David Furnish's generosity, gallery 101 has been renamed The Sir Elton John and David Furnish Gallery. The singer's private collection of more than 7,000 photographs will also go on display at the gallery, with the images spanning from the early 20th Century to the present day. John has described the collaboration and renaming as "the perfect partnership," with a major co-curated temporary exhibition set to be announced in the near future. "We are delighted to be part of this exciting moment and we hope that audiences will walk away with the same excitement and appreciation for photography as I did when I first started collecting," said John in a statement. Meanwhile, the new Elton biopic Rocketman will hit theaters in the U.S. on May 31 and in the U.K. on May 2. - New Musical Express, 4/16/19...... SiriusXM radio launced its highly anticipated new Cher channel on Apr. 17. The limited run channel will play music from throughout the diva's career, including her hits and her musical influences, along with stories from Cher herself about her music that defined multiple decades and her life. The Cher channel will also feature tracks off the original cast album for "The Cher Show," the new bio musical currently playing on Broadway. SiriusXM subscribers will be able to enter for the chance to win two trips for the winner and a friend to New York City. The prize includes airfares, hotel stays and a pair of tickets to see The Cher Show on Broadway, plus see Cher live at Madison Square Garden from the front row and the opportunity to meet her. The Cher Channel will run through May 1 at 3 a.m. EST on SiriusXM radios (channel 4) and on the SiriusXM app. Meanwhile, Cher performed her Sonny & Cher hit "I Got You Babe" with the cast of "The Cher Show" on The Tonight Show Starring Jimmy Fallon on Apr. 15. Cher, rocking a fire engine-red wig and a sparkly black suit, also came out with host Jimmy Fallon to lip sync to a bunch of random New York bar patrons screeching her hit "Believe" and recreated the famous Moonstruck slap during his monologue. Cher also revealed that she used to be terribly shy and still gets embarrassed to sing in front of strangers. Also, she told late ex-husband Sonny Bono that she thought "I Got You Babe" wasn't very good when she heard it for the first time. - Billboard, 4/16/19...... Paul Simon stopped by The Late Show with Stephen Colbert on Apr. 15 for a spirited performance of the Cajun-inspired tune "That Was Your Mother" with host Stephen Colbert accompanying him on washboard. "That Was Your Mother" was first recorded by Simon on his revered 1986 album Graceland, and one of its orginal contributors, John Batiste who also fronts The Late Show house band, joined in on accordian. Meanwhile, Simon is set to headline Outside Lands Festival in August with Twenty One Pilots and Childish Gambino. - Billboard, 4/16/19...... Journey announced via its Twitter account on Apr. 15 that it will play a nine-show residency at The Colosseum at Caesars Palace this October. The nine performances are set for Oct. 9, 11, 12, 16, 18, 19, 23, 25 and 26. The band last toured together in 2018 during an extensive 56-date show across the U.S. with co-headliner Def Leppard. Journey was inducted into the Rock and Roll Hall of Fame in 2017. - Billboard, 4/15/19......

In related news, James Taylor will kick off his first ever Vegas residency at The Colosseum on Apr. 17. Taylor will perform 17 shows at the venue, which has also hosted residencies by the likes of Elton John, Cher, Celine Dion and Bette Midler Taylor will be performing on acustom-built stage that will include the return of his One Man Band drum machine. "I was a Vegas snob forever, for sure," the 71-year-old Taylor notes. "Back in the day, Vegas definitely had a very specific connotation for us, and it was something [that folk and pop artists] in the late '60s and early '70s, were distancing ourselves from. For one thing, it's now a town of two million people. It's not just the strip; there's an actual population there, and it's just an excellent place to put on a show." He says he's most excited about performing on his most elaborate stage to date. "This particular staging that we're going to present is something we've essentially been perfecting over the past couple of years," he said. Taylor will play the Colosseum on April 17, 19, 20, 24, 26, 27 and May 1, 3, 4, 8, 10 and 11, with the possibility of more gigs added in the future. - Billboard, 4/15/19...... Bruce Springsteen made a surprise appearance at New York's Tribeca Grill Loft on Apr. 13 at a benefit for the Kristen Ann Carr Fund. Hopping on stage with famed photographer Danny Clinch's Tangier Blues Band, the Boss ripped through Johnny Rivers' classic "Rockin' Pneumonia and Boogie Woogie Flu" and the blues rock standard "Down the Road Apiece" at the event, dubbed "A Night to Remember." The event was aimed at raising money to fight the soft tissue cancer sarcoma in honor of Carr, the late daughter of rock journalist Dave Marsh and Springsteen's co-manager, Barbara Carr. Kristen Carr died of sarcoma in 1993 at age 21. - Billboard, 4/15/19...... Police log books from the Beatles' first visit to the U.S. have gone on display at Liverpool's Magical Beatles Museum. The log books, which were set to be destroyed, were discovered by NYPD officer Patrick Cassidy, who discovered the logs while searching in police records. "The Ed Sullivan Theatre is in the confines of my precinct, so one day in 2013, I went into the storage area that holds these books," Cassidy told the BBC. "After 50 years, they clean out and destroy them, so I looked up February '64 and found the book, which would have been destroyed the following year." The logs list the names of the officers who guarded the band in New York as they prepared to appear on The Ed Sullivan Show in February 1964 and their show at Carnegie Hall. At the latter, the logs state that there was an incident where an officer was "knocked off balance" and injured outside the Plaza Hotel while "attempting to restrain the surging crowd." The Fab Four's appearance on The Ed Sullivan Show, which marked their US TV debut, was watched by a then record 73 million people at the time. - New Musical Express, 4/15/19...... The Queen biopic Bohemian Rhapsody has made nearly $1 billion (£760 million) taking in box office receipts of over $900 (£687 million) around the world since its premiere in 2018, Variety has reported. The Oscar-winning film generated $901 million (£688 million) internationally and of those figures, it has been a huge hit in Japan where it has grossed $114 million (£87 million), a further $76 million (£58 million) in South Korea and in the United Kingdom where it has brought in returns of $71 million (£54 million). The ticket sales show a huge return for the biopic, which itself only cost Fox $50 million (£38.2 million) to make. Bohemian Rhapsody swept the board at major film awards earlier in 2019 including winning accolades for Best Picture at the Golden Globes and numerous Best Actor awards for Rami Malek, who portrayed Freddie Mercury in the blockbuster. Rudi Dolezal, the director of many Queen music videos, recently revealed that a Bohemian Rhapsody sequel could also be in the works. A documentary about Queen and its current frontman Adam Lambert, The Show Must Go On: The Queen + Adam Lambert Story, to be aired on ABC on Apr. 29 and will follow the band's ongoing collaboration with Lambert. - New Musical Express, 4/15/19...... A source close to AC/DC says its former frontman Brian Johnson will "absolutely" tour again with the Aussie rockers in 2019. Last year, it was reported that the rock icons were working on a new album that would feature the work of their late rhythm guitarist Malcolm Young on "every track." Then, earlier this year, American band Terrorizer confirmed that after bumping into Johnson at an airport, he told them that he would feature on the new album and that he was "sick of denying it." Johnson meanwhile was forced to quit AC/DC in 2016 after suffering hearing loss and was replaced on the band's tour by Guns N' Roses singer Axl Rose. But according to radio DJ Eddie Trunk, Johnson will rejoin the legendary band to tour the upcoming album. "I have sources that have told me that they are absolutely going to tour with Brian back again," Trunk says. "That's all unconfirmed from their camp, but I had it from some reliable sources." The band is reportedly back in the studio working on a new album with Johnson on vocals. - NME, 4/13/19...... Mick Jagger posted a pic on Twitter of himself taking a stroll in a park on Apr. 11, once week after the 75-year-old rock icon had surgery to replace a heart valve. Dressed in jeans, a dark blue dress shirt and gray baseball hat, Jagger posed in front of a tree filled with white spring blossoms, a slight smile on his face, with the caption "A walk in the park!" The Stones announced earlier in April that they were rescheduling their North American "No Filter Tour" so that Jagger could have the procedure. Originally slated to begin in April, the tour will now begin in July with new dates to be announced in the coming weeks. - Billboard, 4/12/19......

Singer/songwriter John Prine gave a rollicking performance at Brooklyn's Kings Theatre on Apr. 13, the one year anniversary of his 2018 album The Tree of Forgiveness, his most acclaimed and successful album in several years. "Today is its birthday, one year ago tonight," said Prine to the sold-out crowd at the majestically restored venue. The album's arrival last spring marked Prine's first set of new songs in some 13 years, and the disc debuted at No. 5 on the Billboard 200. The album also signaled Prine's confident return after surgery for lung cancer in 2013, following his recovery from neck cancer 15 years earlier. Prine, 72, was named artist of the year at the Americana Music Awards in September. He was honored in an all-star tribute concert on the eve of this year's Grammy Awards in Los Angeles, and he will be inducted into the Songwriters Hall of Fame in New York on June 13. After touring throughout 2018, Prine spent this March performing in Australia. The Brooklyn gig was his second stateside stop on a world tour that currently runs through December. - Billboard, 4/14/19...... As the 2020 presidential primary campaign heats up, some of the leading Democratic candidates have received donations from several famous rock and country musicians before the recent close of the first quarter fundraising deadline. Former Texas Rep. Beto O'Rourke, a former member of a punk rock band, has received $2,800 from a fellow Texan, county music icon Willie Nelson, as well as $1,850 from Grateful Dead bassist Phil Lesh and $2,800 from Dave Matthews Band violinist Boyd Tinsley. In March, Michael Jackson producer and composer Quincy Jones was among the celebrities contributing to California Sen. Kamala Harris' bid for the White House, and Vermont Sen. Bernie Sanders has received donations from members of Foo Fighters and Phish. - AP, 4/16/19...... Paul Raymond, a guitarist for the rock band UFO, died of a heart attack only one week after the band's final U.K. show, his life partner Sandra announced on Facebook on Apr. 14. He was 73. "With a desperate and broken heart, fully in tears and pains that feel like they will kill me I have to tell you that my most beautiful and beloved darling Paul Raymond has passed away today," she wrote. "The doctors were trying to reanimate him and with success at first but then his system shot down again and there was nothing more they could do for him, he died of a heart attack." First joining UFO in 1976, Raymond played on the albums No Place to Run, Obsession and Lights Out as well as the live Strangers In The Night album. After playing with the band during four different stints, he was a regular in the UFO lineup since 2003. Raymond's other musical endeavours included replacing Christine McVie in Chicken Shack after she left to join Fleetwood Mac, as well as being a member of Savoy Brown. He also played with two former UFO bandmates on two separate occasions. He also played with guitarist Michael Schenker in MSG, and then with Pete Way in Waysted. UFO will be performing at a series of European festival dates this coming June and July, with a US tour in October. They will also perform as part of the Rock Legends Cruise, which departs from Fort Lauderdale, Fla., on Feb. 27, 2020. - New Musical Express, 4/13/19...... Gary Stewart a music industry veteran who spent decades in the industry working at Rhino Entertainment and Apple Music, died on Apr. 11. He was 62. A musical savant, Stewart used his vast knowledge to introduce music to a new audience through such memorable catalog collections for Rhino Entertainment as the kitschy Have a Nice Day '70s compilation series to Nuggets, a slate of albums devoted to obscure psychedelic rock from the '60s, as well as more scholarly sets, including Shout! Factory's Doctors, Professors, Kings & Queens: The Big Ol' Box of New Orleans. After a hiatus, he rose to senior vp A&R for Rhino and then moved to Apple Music. His first role was chief music officer for Apple's iTunes before he left and then returned to work in catalog curation. He parted ways with Apple for good in 2018. Stewart, a massive Elvis Costello and Bruce Springsteen fan, was also a co-founder with David Gorman of Trunkworthy.com, a website evangelizing "underappreciated yet overachieving music, movies, and television," as the description phrased it. Stewart was also a committed philanthropist. At Rhino, he was the impetus for a volunteer program whereby employees who donated 18 hours of time per year would get off the week between Christmas and New Year's Day with pay. At various times, he served on the boards of Los Angeles Alliance for a New Economy, the Community Coalition, Liberty Hill Foundation and Social Venture Network. He was a donor, fundraiser and activist on social justice issues and progressive candidates and initiatives, advocating for such issues as living wages, progressive taxation, marriage equality, affirmative action and immigrant rights. Elvis Costello posted a tribute to Stewart on Facebook on Apr. 14. "This morning's brief promise of Spring was punctured by the news of the passing of Gary Stewart. It is rare enough to find people of insight, kindness and loyalty but Gary had all these qualities in abundance. Friends have called or written all today trying to make sense of the impossible and the inexplicable." - Billboard, 4/12/19......

Emmy-winning sitcom actress Georgia Engel, best known for playing Ted Baxter's significant other Georgette Franklin on The Mary Tyler Moore Show and the mother-in-law of Robert Barone (Brad Garrett) on Everybody Loves Raymond, died on Apr. 12 in Princeton, N.J. She was 70. The Washington, D.C. native joined The Mary Tyler Moore Show in 1972 when it was a top 10 primetime series and would appear in nearly 60 episodes over its final five seasons. Her demure, dim but well-meaning Georgette was the love interest of self-important anchorman Baxter (Ted Knight), who courted and eventually married her during the November 1975 sweep -- though he didn't seem all that prepared for it. They went on to adopt a child and later had one of their own. The role earned Engel back-to-back Emmy noms for Supporting Actress in a Comedy Series in 1976 and '77. She appeared as Georgette in the MTMS spinoff Rhoda and later was a regular in a different role as Betty White's ditzy best pal on CBS' The Betty White Show (1977-78). She also was a series regular on the single-season ABC comedy Goodtime Girls in 1980 and the network's 1983-84 sitcom Jennifer Slept Here and had a recurring role as Shirley Burleigh on Coach from 1991-97. During that era, Engel also guested on such shows as The Love Boat, Mork & Mindy and Fantasy Island. She also did voice work on such animated series as The Care Bears, Hercules and Hey Arnold! and played a giraffe in the 2001 feature Dr. Dolittle 2. She joined CBS' megahit Everybody Loves Raymond during Season 7 in 2003 when she scored back-to-back-to-back Guest Actress Emmy nominations. She continued to work in TV post-Raymond, appearing in episodes of such series as The Office, Two and a Half Men, Passions and Neighbours. She also recurred as Mamie in 20 episodes of Hot in Cleveland, TV Land's first scripted series, and her final credit was a 2018 appearance in Netflix's Grace and Frankie. "Georgia Engel was a comedy machine," Mary Tyler Moore Show co-creator James L. Brooks once told the TV Academy's The Interviews series. "She was a great character, a great addition to the show. She as much as any actor I've ever worked with, when she's talking people lean forward -- just reaching for her words." - Deadline.com, 4/13/19.
A remixed version of Diana Ross' Aug. 1979 hit "The Boss" has topped the Billboard Dance Club Songs chart for the week ending Apr. 13. "The Boss 2019" remix by producer Eric Kupper, among others, is Ross' third remix to hit No. 1 on the chart, following "I'm Coming Out"/"Upside Down 2018" and "Ain't No Mountain High Enough 2017." The singer also topped the Dance Club Songs with her original versions of "Upside Down"/"I'm Coming Out," in 1980, "Swept Away" (1984) and "Take Me Higher" (1995). - Billboard, 4/11/19...... Electric Light Orchestra mastermind Jeff Lynne will be honored with the Founders Award for songwriters and composers at the ASCAP Pop Music Awards, set for May 16 in Beverly Hills, Calif. "Jeff Lynne has led a singular career and we are all fortunate that his musical genius has been felt so widely. His legendary stature is well-deserved and ASCAP is very proud to present him with our highest honor," said ASCAP chairman of the board and president Paul Williams. During the invitation-only ceremony Blondie icons Debbie Harry, Chris Stein and Clem Burke will also be feted with ASCAP's career-encompassing Golden Note Award. - Billboard, 4/11/19......

Neil Young posted on his Neil Young Archives site on Apr. 8 that he and Crazy Horse are "about to enter the studio with 11 new ones." "We sincerely hope [fans] enjoy our new music when it is released this year, because we know we will enjoy making it," Young added. He has released a total of 23 records with Crazy Horse, including EPs and live albums. Young and Crazy horse last recorded together in 2012 for their Psychedelic Pill album, and the two camps reunited in 2018 for a one off concert. Young launched his Neil Young Archives, a subscription service and app that gives fans access to a complete back catalogue of audio and visual content, in 2018. - New Musical Express, 4/10/19...... On Apr. 9 the Fender guitar company released replicas of two iconic guitars made famous by Led Zeppelin's Jimmy Page to mark the band's 50th anniversary -- the "Dragon" and "Mirror" models of Page's Telecaster. In an animated clip from Fender which features Page's voiceover, he recalls the time his former Yardbirds bandmate Jeff Beck gifted him the "Mirror" -- "He said, 'Here, this is yours', and he gave me the Telecaster." Page goes on to discuss how he wanted to "really make it [his] own" following his time with the Yardbirds. "I tried applying mirrors to it so you could use it in an optical way," he remembers. "It was this whole thing of the reflective surfaces, and you could actually reflect the light onto other things; to make it sort of almost kinetic at the same time." - New Musical Express, 4/9/19...... In other Zeppelin-related news, drummer Jason Bonham, son of late Led Zepp drummer John Bonham, has revealed how Jimmy Page gave him his first line of cocaine when he was just 16. Appearing on Howard Stern's SiriusXM show, Bonham explained how he entered Page's hotel room to discover a woman on the floor who was meowing and wearing a collar. "Jimmy was the first one to ever give [cocaine] to me," Bonham said. "We got called to his room. I was 16 at this point, and there was a woman on the floor with a collar on, meowing, and he had this grinder thing and he turned it over and he went, 'Here you go,' and I went, 'Thanks.' He's like, 'You've done this before, right?' And I'm like, 'Yeah, of course I have.'" Jason Bonham has filled in for his dad on the kit at several Led Zeppelin reunions - including the band's induction into the Rock and Roll Hall of Fame in 1995 and their comeback performance at Ahmet Ertegun's O2 Arena tribute concert in 2007. - NME, 4/11/19......

Disciples of Soul, a side project of Bruce Springsteen's E Street Band guitarist Little Steven Van Zandt, will release their latest album, Summer of Sorcery, on May 3. Van Zandt first launched the Disciples of Soul back in 1982 and recently brought the group back to active duty with 2017's Soulfire, its first release in 18 years, and 2018's Soulfire Live. Among the upcoming projects on Van Zandt's list is another TV show to follow his well-received roles in The Sopranos and Lilyhammer. "If (Springsteen) decides not to do anything, then I'll probably go back to TV," he says. "I've dedicated a good, solid two years to becoming reacquainted with my own life's work and re-introducing myself as an artist, which has been very satisfying, and I'll continue to do that on a regular cycle. But having done that I think it's time to look back at TV and what I might be able to do there now. - Billboard, 4/11/19...... Sharon Osbourne became a bit emotional as updated fans on husband Ozzy Osbourne's health on the Apr. 8 broadcast of her talk show The View. Sharon recalled that at the beginning of 2019 Ozzy had a "very bad flu" that developed into bronchitis and then a bout of pneumonia. After leaving the hospital for treatment of the flu, "he had a bad accident at home, he fell... in the middle of the night," she said, noting that the fall aggravated injuries from a 2003 motorbike accident that put him in a coma for several days. "And what he'd done was he re-injured his back and neck and shoulders. All of the metal rods and everything that were put in his body were dislodged. So we had to cancel his year of dates." As her fellow panelists rubbed her back and soothed a teary Osbourne, she assured them that Ozzy is "good... he's fine, he's great." Ozzy announced on Apr. 4 that he has been forced to postpone all his 2019 North American and European as he recovers from a the injury sustained at his Los Angeles home. - Billboard, 4/10/19...... Meanwhile, a tour featuring a hologram of the singer who once replaced Ozzy in Black Sabbath, Ronnie James Dio, will launch on Mar. 31 and feature the late rocker's former Dio bandmates. The official band line-up will feature Craig Goldy on guitar, Simon Wright on drums, Scott Warren on keyboards and newer Dio family member Bjorn Englen on bass. The show will also feature renowned metal vocalists Tim "Ripper" Owens and Oni Logan of Lynch Mob. The 90-minute celebration of Dio will include fan favorites such as "Holy Diver," "King of Rock N' Roll" and "We Rock," and fans will get to see the hologram of Dio perform material ranging from Rainbow to Black Sabbath, to his own Dio material. The "Dio Returns" tour will visit 18 cities, including Orlando, Atlanta, Detroit, Milwaukee, Kansas City, Dallas and Los Angeles, and wrap on June 29 in Las Vegas. - Billboard, 4/9/19...... The B-52's have announced their 40th anniversary world tour will kick off on May 4 at West Palm Beach, Fla.'s Sunfest festival on May 4. OMD and Berlin will open for the band on select U.S. tour dates. The band will play two additional U.S. dates, in Arlington, Tex. (5/12) and Nashville, Tenn. (5/26), before touring Europe in June and July. In August, they'll play 29 additional U.S. dates before wrapping at New York City's Central Park Summerstage on Sept. 24. Meanwhile, the B52's are working on their first official book, which is due in 2020. "Woo-hoo! Europe and then all over North America! Dust off those go-go boots and shine your dancing shoes because the B-52s are coming!," frontman Fred Schneider said in a press release. - Billboard, 4/9/19......

Legendary prog-rockers King Crimson are finally entering the digital world in conjunction with their upcoming 50th anniversary world tour. At a presser on Apr. 6, King Crimson manager David Singleton announced that the band's entire studio-album catalog will soon launch on the Spotify streaming platform, as part of an "outreach year" for King Crimson. Their 13 studio albums will be available on other streaming platforms in May before uploading to Spotify on June 10, the same day the band kicks off their ambitious 43-city 50th anniversary world tour on June 10 in Leipzig, Germany. The Robert Fripp-led group is also releasing reissues of their back catalog, a new documentary, and commemorative merchandise in celebration of five decades together. - Billboard, 4/8/19...... Music publisher Primary Wave has signed a deal with the estate of Leon Russell to curate the songwriting catalog of the late 1970s rocker, including such oft-covered songs as his 1970 classic "A Song For You." Under the new deal, Primary Wave also acquires the music publishing and master recording income stream of songs including his 1972 hit single "Tight Rope," "The Masquerade," which George Benson recorded, and "Superstar," a hit for The Carpenters. Since Russell released "A Song For You" on his eponymous debut album, it has been covered by the likes of Whitney Houston, Willie Nelson, Ray Charles and Amy Winehouse. "I am delighted that Leon Russell and his heirs have joined the Primary Wave family," said Primary Wave CEO and founder Lawrence Mestel. "Leon was a legendary songwriter whose music has resonated in people's lives for decades. His songs were an inspiration to so many and we look forward to furthering the legacy of this remarkable musician." The partnership comes one week after what would have been Russell's 77th birthday. The eclectic Grammy-winning artist, who was inducted into both the Rock and Roll Hall of Fame and Songwriters Hall of Fame, died in 2016 at age 74. - Billboard, 4/9/19...... More details have been announced about Bob Dylan's recently announced whiskey distillery which will open in downtown Nashville, Tenn., in conjunction with the 50th anniversary of his iconic Nashville Skyline album. Dylan is set to help open the distillery in fall 2020 under the brand "Heaven's Door," which takes its name from one of his biggest hits. According to a press release, "Heaven's Door Spirits will transform the 160-year-old Elm Street Church into the Heaven's Door Distillery and Center for the Arts, featuring the distillery, a whiskey library, a restaurant and a 360-seat live performance venue. It will also feature Dylan's paintings and metalwork sculptures." - AP, 4/9/19...... A silent 11-second clip of the Beatles performing on the legendary U.K. music program Top Of The Pops that was once thought lost has been unearthed in Mexico. The clip is the only surviving footage of the band miming to 'Paperback Writer' on the show back in 1966, as the BBC did not keep the tapes. However, one family in Liverpool happened to be filming the footage from a television on an 8mm camera. A collector in Mexico then happened upon the footage, who handed it over to missing TV footage specialists Kaleidoscope in Birmingham. "I think if you're a Beatles fans, it's the holy grail," Chris Perry of the UK band Kaleidoscope told the BBC. "People thought it was gone forever because videotape wasn't kept in 1966. To find it all these years later was stunning." While the band pre-recorded a number of performances for Top Of The Pops, this was their only live appearance. - New Musical Express, 4/9/19......


Classic rock veterans Rod Stewart and Jeff Beck have announced they'll reunite this September for a connect in Los Angeles, marking the first time the two have shared a stage together in almost a decade. Stewart and Beck, who played together in The Jeff Beck Group, are set to play the Hollywood Bowl on Sept. 27 in what is being described as "their most in depth concert in over 35 years." Their set list will include a mixture of hits and rare early classics. The Jeff Beck Group was formed by Stewart and Beck in 1967 and also included Rolling Stones guitarist Ronnie Wood. The group released several albums before disbanding in the early 1970's. The last time the two reunited was during a concert in 2009. - New Musical Express, 4/8/19...... Fans of Creedence Clearwater Revival will have their final opportunity to see the CCR spinoff band Creedence Clearwater Revisited this summer as the band has announced a 20-city farewell tour will kick off on June 13 in Del Mar, Calif. and the San Diego County Fair. Original bassist Stu Cook says "this just seemed like a good time to wrap it up." "Both (drummer Doug Clifford) and I are approaching 74 this month and just thought, 'Y'know, we've been there, done that, seen it, we know how it feels, we know how it tastes'," Cook explains. "We're gonna miss it, but there's still time to do other things in life. We all have bigger families, grandkids. We're still playing great, but we are pretty tired of the road. We're not retiring, but the idea right now is to put the band to bed and see what else comes along and how we feel about it moving forward. I'd like to try other things and explore other ideas and places before my time's up." CCRevisited formed during 1995, at a time Cook and Clifford's former bandmate John Fogerty was still refusing the play the band's material. Cook and Clifford did lock horns periodically with Fogerty -- who famously refused to perform with them during CCR's 1993 Rock and Roll Hall of Fame induction during Revisited's tenure. Though in 1997 Fogerty's legal actions briefly forced them to change the group name to Cosmo's Factory, courts ultimately ruled in the duo's favor and it returned to the Revisited moniker. The three settled their various disputes a few years ago and now jointly operate an LLC "to market the brand and, if you will, exploit our good will," with plans for merchandising and other endeavors -- among them a possible video release of CCR's performance at the original Woodstock Music & Art Fair, which was not included in the 1970 documentary from the festival. CCRevisited will not be taking part in any of the upcoming Woodstock 50th anniversary celebrations, but he and Clifford are looking towards the final shows, which Cook predicts "will be a tough one" but, ultimately, satisfying as a long-term job well done. - Billboard, 4/8/19...... AC/DC are reportedly back in the studio and "doing something" musically together, according to the band's longtime engineer Mike Fraser. Speaking on the Mastering Music Mastering Life podcast recently, Fraser didn't deny that the band had been recording recently. "Well, yeah, I could say that we've been in the studio doing something," Fraser said. "What's come of that I can't discuss yet." Asked if Johnson was back singing vocals, Fraser answered: "I think so." Rumours have been circulating about possible new AC/DC material ever since lead vocalist Brian Johnson (who was forced to quit the band's tour in 2016 due to hearing loss) and ex-drummer Phil Rudd were seen leaving a studio in Vancouver last summer. Guitarists Angus Young and Stevie Young were also spotted outside the same studio the day after, while former bassist Cliff Williams was seen in Vancouver with Johnson back in December. - NME, 4/10/19......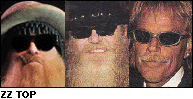 ZZ Top announced on Apr. 8 that they'll embark on a lengthy 34-city U.S. tour this summer in celebration of their 50 years as a band, with Cheap Trick and Lynyrd Skynyrd opening for the Texas trio on selected dates. "It's been five decades, and I think we're starting to get pretty good at all this!" ZZ Top guitarist/vocalist Billy Gibbons said in a statement. "We're truly excited to be appearing across the continent this summer and fall, playing our bluesy kind of rock like we started in '69." The tour is set to kick off Aug. 16 in Ridgefield, Wash., also hitting cities including Irvine, Calif. (8/23), San Diego (8/28), Phoenix (8/29), Milwaukee (9/4), Boston (9/18), Cleveland (9/21), Charlotte (10/6) and Tampa, Fla. (10/19) before wrapping in West Palm Beach, Fla. on Oct. 20. - Billboard, 4/8/19......Just a few days after announcing they'd be stepping in to replace the Rolling Stones at the 2019 Jazz Fest in New Orleans as Stones frontman Mick Jagger recouperates from surgery to replace a faulty heart valve, the band has been forced to drop out of the Jazz Fest as well due to an illness affecting Mac singer Stevie Nicks. "Due to the illness of Stevie Nicks, Fleetwood Mac has just announced the postponement of four upcoming North American tour dates and their performance at Jazz Fest on May 2," the Jazz Fest announced on Apr. 8. Mac announced on April 4 that the band would replace fellow veterans the Stones at the annual New Orleans festival, with Nicks tweeting to fans that she "can't wait to get back to New Orleans again." Earlier in April, Mac postponed shows in Philadelphia and Boston due to what was described as "a band member illness." "We are having more fun than ever on this current tour, but as we all know, touring life comes with its challenges," drummer Mick Fleetwood said. "The flu has sidelined Stevie for a couple of weeks but she is on the mend and we look forward to getting back out on the road. We so apologize to the fans, but we are working on rescheduling." - Billboard, 4/8/19...... Meanwhile, Mick Jagger updated fans on his healthon Apr. 5, posting on his Facebook page that he's "feeling much better now and on the mend." The 75-year-old singer also thanked his fans for their messages of support, "and also a huge thank you to all the hospital staff for doing a superb job." The Stones announced last week that they were rescheduling their North American No Filter Tour so that Jagger could have the procedure. Orginally slated to begin in April, the tour will now begin in July with new dates to be announced in the coming weeks. The Stones are expected to make up nearly all the dates on their "No Filter Tour." - Billboard, 4/8/19...... In other Stones-related news, the UK's Sheffield Documentary Festival has pulled a screening of a film about former Stones bassist Bill Wyman over "sex predator" protests in the country. Wyman's The Quiet One documentary was among the festival's most high-profile offerings for the 2019 event, where it was due to be screened alongside a Q&A session with Wyman himself and the film's director Oliver Murray. Both events have now been pulled after detractors singled out Wyman's relationship with his second wife Mandy Smith. Wyman met Smith when she was just 13, and he was 47. While the pair married in 1989 when she was 18 and Wyman was 52, Smith later alleged that they first had sex when she was just 14. While the screening has been cancelled, Wyman has never been arrested or charged with any offences and previously said that he volunteered to be interviewed by police. "I went to the police and I went to the public prosecutor and said, 'Do you want to talk to me? Do you want to meet up with me, or anything like that?' and I got a message back, 'No,'" he said. "I was totally open about it." Wyman was the main bassist with the Rolling Stones until his retirement in 1993. He has since made a handful of comeback cameo performances, including a brief stint during a show at London's O2 Arena in 2012. - New Musical Express, 4/8/19......

A "prequel" to the smash 1978 movie musical Grease titled Summer Loving is in development, with with writer John August (Big Fish, Charlie and the Chocolate Factory) set to write the script. Summer Loving is said to center on a summer fling Danny Zuko (originally played by John Travolta and Sandy Olsson (originally played by Olivia Newton-John each bring up to their friends in the movie during the song "Summer Nights." Zuko's take on the fling is much more graphic than Olsson's version of the story, which is more innocent and wistful. In 2016, a live TV version of the original movie starring Julianne Hough and Vanessa Hudgens won five Emmy Awards. Grease has remained a popular title and soundtrack for Paramount ever since it's '78 release, forever cemented in pop culture. - ComingSoon.net, 4/9/19...... Country singer/songwriter Earl Thomas Conley, known for his country hits in the '80s and early '90s including "Holding Her and Loving You," "What'd You Say" and "Right From the Start," died on Apr. 10 at age 77. Conley had been in hospice care for several months while suffering from a condition similar to dementia, accordding to The Tennessean. "I'm sad to report that Earl Thomas Conley passed away very early this morning," according to country singer and The Voice judge Blake Shelton. "Earl was my all time favorite singer, hero and my friend. Prayers to his family. We will all miss you deeply my brother. Now go rest..." Shelton, Conley and and Michael Pyle composed Shelton's 2002 hit "All Over Me." Born in Portsmouth, Oh., in 1941, Conley began writing songs while in the U.S. Army and after being honorably discharged in 1968 he'd frequently travel from Ohio to Nashville. In 1974 he signed with independent record label GRT. While his early singles failed to chart, Conley continued to have success writing songs for other artists, including Conway Twitty ("This Time I've Hurt Her More Than She Loves Me") and Mel Street ("Smokey Mountain Memories"). In 1979 he signed with Warner Bros. Records and released his first major hit, "Dreamin's All I Do," which peaked at No. 32. He'd see his first No. 1 in 1981 with "Fire and Smoke" and receive a string of nine chart-toppers from 1983-1986, beginning with "Your Love's on the Line" and including "Don't Make It Easy for Me," "Angel in Disguise" and "Chance of Lovin' You," among others. He went on to release 10 albums and secure more than 30 singles on Billboard's Hot Country Songs chart. - Billboard, 4/10/19...... Actor Seymour Cassel died on Apr. 7 following complications from Alzheimer's disease. He was 84. Mr. Cassel collaborated with director/actor John Cassavettes on several of his films, and earned an Oscar nomination for their 1968 movie Faces. He later worked with filmmaker Wes Anderson on Rushmore, The Royal Tenenbaums, and The Life Aquatic with Steve Zissou. His other screen credits included the Steve Buscemi comedy In the Soup in 1992, and TV series Under Suspicion, Good Company and Tracey Ullman's Tracey Takes On. - WENN/Canoe.com, 4/8/19.